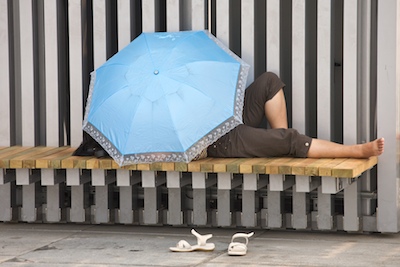 The weather in Beijing has been hot during my entire stay, but today was the first time I spent hours working in the afternoon sun. And I have to tell you, it's hot and humid, very humid.
The temperature was over 90 degrees today, and it felt like the humidity was about the same. I would find patches of shade to camp out beneath when I felt my core begin to simmer. And once I finished my shooting, I went into an air conditioned building an hour before I was to report for work so I could arrive cool and composed.
But as hot as it is, I'm going out shooting every chance I get. There are just too many opportunities, and I don't want to pass them up because of a little perspiration... OK, maybe a lot of perspiration.
Photo of overheated visitor to the Olympic Commons by Derrick Story. Canon 5D with 70-200mm f/4 L lens.
---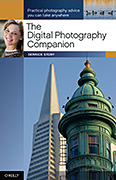 Now Available! The Digital Photography Companion. The official guide for The Digital Story Virtual Camera Club.
25 handy and informative tables for quick reference.
Metadata listings for every photo in the book
Dedicated chapter on making printing easy.
Photo management software guide.
Many, many inside tips gleaned from years of experience.
Comprehensive (214 pages), yet fits easily in camera bag.
---
Technorati Tags: Beijing, Beijing Olympics, digital photography, Technology, The Digital Story