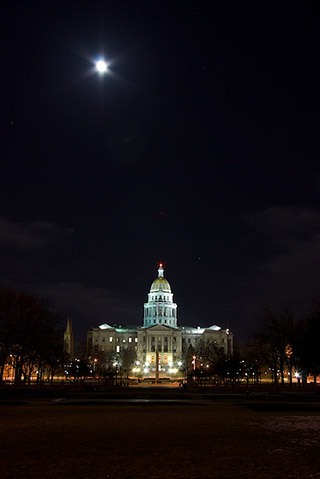 "I liked the look of the almost full moon coming up over the Colorado State Capitol," said Mark Castleman. And it somehow seems quite fitting for the season.
Mark used his Pentax K10D in aperture priority mode set to f/8. He kept the ISO at 100 to control noise, and mounted the camera on a tripod for a tack-sharp shot, even with a 10-second exposure.
If you have a candid you'd like to share, take a look at our Submissions page, then send us your Grab Shot. We'll try to get it published for you on The Digital Story.
And you can view more images from our virtual camera club in the Member Photo Gallery.
---
-
---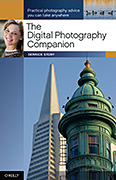 Now Available! The Digital Photography Companion.
The official guide for The Digital Story Virtual Camera Club.
25 handy and informative tables for quick reference.
Metadata listings for every photo in the book
Dedicated chapter on making printing easy.
Photo management software guide.
Many, many inside tips gleaned from years of experience.
Comprehensive (214 pages), yet fits easily in camera bag.
---
Technorati Tags: candid, Derrick Story, digital photography, Digital Photography Companion, grab shot, Technology, The Digital Story