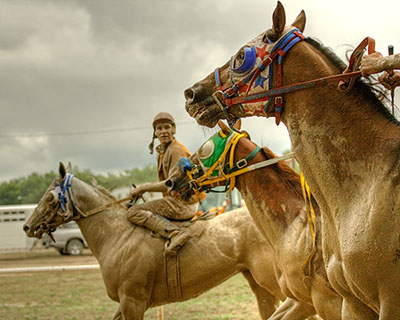 "This photo was taken after a race over a muddy track at the fairgrounds in Rocky Ford, Colorado," writes virtual camera club member Eric Simon. "After taking pictures of the horses during the race, I spotted these three returning to be unsaddled and was struck by their three-across-the-track formation."
"The jockeys on each horse were chatting with each other. Even though I might have tried for a wider angle shot (if I'd had a capable lens), I thought focusing on the head and neck of the first horse would make an interesting picture, and I was actually hoping to capture the sort of picture I wound up with. I modified the photo in Photoshop to bring out detail in the shadows and made it a tad warmer to lend a slight golden tone."
Eric captured this image with his Canon XTi with a (non image-stabilized) 70-200mm F/4 lens. The statistics for this shot are as follow: 70mm, F4, 1/1000 exposure, ISO 400, Aperture Priority, center-weighted metering.
If you have a candid you'd like to share, take a look at our Submissions page, then send us your Grab Shot. We'll try to get it published for you on The Digital Story.
And you can view more images from our virtual camera club in the Member Photo Gallery.
---
-
---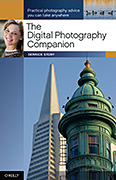 Now Available! The Digital Photography Companion.
The official guide for The Digital Story Virtual Camera Club.
25 handy and informative tables for quick reference.
Metadata listings for every photo in the book
Dedicated chapter on making printing easy.
Photo management software guide.
Many, many inside tips gleaned from years of experience.
Comprehensive (214 pages), yet fits easily in camera bag.
---
Technorati Tags: candid, Derrick Story, digital photography, Digital Photography Companion, grab shot, Technology, The Digital Story