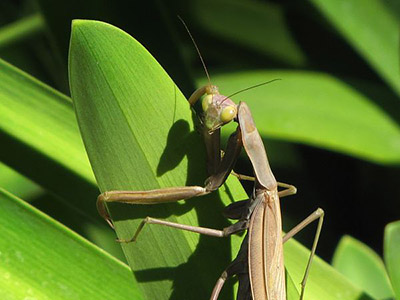 "I've heard you should have a connection with your subject," writes Francine Kunkel. "Well that certainly was the case with this praying mantis in my garden. His little head and big eyes followed my movements as I bent and knelt to get the right angle. I almost expected him to smile."
Francine captured this garden portrait with a Canon PowerShot SX10 IS at 1/250 with an aperture of 5.0, and ISO set to 80.
If you have a candid you'd like to share, take a look at our Submissions page, then send us your Grab Shot. We'll try to get it published for you on The Digital Story.
And you can view more images from our virtual camera club in the Member Photo Gallery.
---
-
---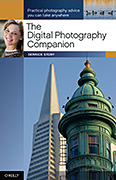 Now Available! The Digital Photography Companion.
The official guide for The Digital Story Virtual Camera Club.
25 handy and informative tables for quick reference.
Metadata listings for every photo in the book
Dedicated chapter on making printing easy.
Photo management software guide.
Many, many inside tips gleaned from years of experience.
Comprehensive (214 pages), yet fits easily in camera bag.
---
Technorati Tags: candid, Derrick Story, digital photography, Digital Photography Companion, grab shot, Technology, The Digital Story