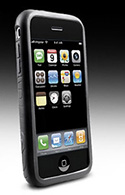 The planets appear to be aligning for the release of the third generation iPhone this summer. Of particular interest to our community are the rumors of a larger image sensor that supports up to 3.2 megapixel still captures, and the ability to record video.
If indeed we see these upgrades, then the iPhone stands to move forward as the "camera you always have with you." Combined with the already useful network connectivity and plethora of photography software via the App store, you could find yourself reaching for your smartphone first in picture taking situations. I predict we would see more candids and grab shots captured with an upgraded iPhone. We should know more this coming June.
iPhone App Reviews
Cropulater Brings Picture Cropping to the iPhone
FotoTimer Provides Self-Timer for the iPhone
HP iPrint App Makes Printing Easy from iPhone or iPod touch
True Photo App for iPhone: CameraBag
"Exposure" (Now "Darkslide") Puts Flickr on Your iPhone
---
-
---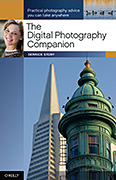 Now Available! The Digital Photography Companion. The official guide for The Digital Story Virtual Camera Club.
25 handy and informative tables for quick reference.
Metadata listings for every photo in the book
Dedicated chapter on making printing easy.
Photo management software guide.
Many, many inside tips gleaned from years of experience.
Comprehensive (214 pages), yet fits easily in camera bag.
---
Technorati Tags: Derrick Story, digital photography, iPhone, Technology, The Digital Story