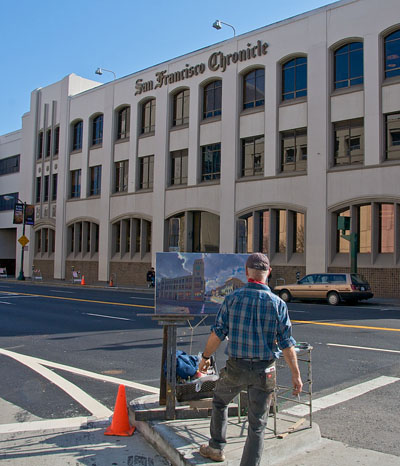 There are many challenges facing the San Francisco Chronicle. The venerable Bay Area newspaper lost $50 million in 2008, and is on pace to lose even more this year.
Virtual camera club member Jeff Fielding captured this painter memorializing the Chronicle building on canvas. You'll notice that the sky is much more dramatic in the painting, with an overall facelift for the structure. Jeff used his Canon 40D with the zoom set to 17mm. ISO was 100, and exposure was set in Manual mode: 1/50 at f/16 (for plenty of depth of field).
If you have a candid you'd like to share, take a look at our Submissions page, then send us your Grab Shot. We'll try to get it published for you on The Digital Story.
And you can view more images from our virtual camera club in the Member Photo Gallery.
---
-
---
Technorati Tags: candid, digital photography, grab shot, The Digital Story