What can you do with a couple of ladders, 8' pole, and bed sheets? Among other things, you can create professional portraits. In this Digital Photography School article titled, Shooting Portraits like a Pro On a Tight Budget, LA photographer Alexis Godschalk describes how she got started in portrait work with a rig just that just about anyone can cobble together. She provides sample portraits that she captured with this set up.
---
-
---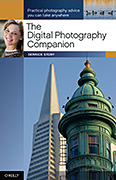 Now Available! The Digital Photography Companion. The official guide for The Digital Story Virtual Camera Club.
25 handy and informative tables for quick reference.
Metadata listings for every photo in the book
Dedicated chapter on making printing easy.
Photo management software guide.
Many, many inside tips gleaned from years of experience.
Comprehensive (214 pages), yet fits easily in camera bag.
---
Technorati Tags: digital photography, technique, The Digital Story, Portraits