Taking control of your flash changes your images from ho-hum snapshots to works of art. I just found a solid tutorial that covers different methods for balancing flash output with ambient light. In the article, How to Use Flash With a Slow Shutter to Create Motion and Ghosts by Cameron Knight on PhotoTuts, you'll learn how to adjust your lighting to create far more interesting effects than you would ever get in auto-everything mode. It's definitely worth a read.
And don't forget, this week's TDS podcast is on Backlit Portraits.
---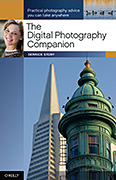 Now Available! The Digital Photography Companion. The official guide for The Digital Story Virtual Camera Club.
25 handy and informative tables for quick reference.
Metadata listings for every photo in the book
Dedicated chapter on making printing easy.
Photo management software guide.
Many, many inside tips gleaned from years of experience.
Comprehensive (214 pages), yet fits easily in camera bag.