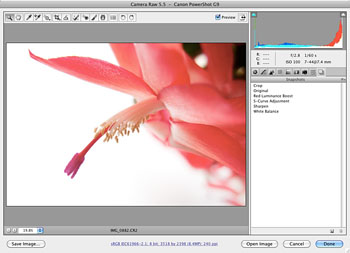 Here are a few of my favorite tips for ACR, one of the most versatile non-destructive image editors available. Techniques include sharpening, snapshots, and how to master the Basic tab. In this podcast, I share the highlights from my recent talk at Photoshop LIVE in Washington DC.
As a bonus, I've added a couple free screencasts that also show you ACR techniques:
Snapshots and the Targeted Adjustment Tool
The Photoshop CS4 Companion for Photographers
Learn what photographers need to know to organize and edit their images with Photoshop CS4. Take a look at The Photoshop CS4 Companion for Photographers. It fits in your laptop bag and is very easy on your wallet.
Listen to the Podcast
You can also download the podcast here (28 minutes). Or better yet, subscribe to the podcast in iTunes.
Monthly Photo Assignment
Wrinkles is the Nov. 2009 Photo Assignment. Keep in mind that side lighting increases texture and front lighting hides it. So you should be thinking angled lighting for this one. You can read more about how to submit on our Member Participation page. Deadline for entry is Nov. 30, 2009.
More Ways to Participate
Want to share photos and talk with other members in our virtual camera club? Check out our Flickr Public Group. It's a blast!
---
-
---
Podcast Sponsors
SiteGrinder lets you take ownership of your websites. Effortlessly output pages right from Photoshop.
Red River Paper -- Try the $7.99 Sample Kit.
Add Magic to Your Slideshows -- FotoMagico presentations are so amazing that your audience will be asking how you did it.
---
Technorati Tags: digital photography, podcast, technique, Technology, The Digital Story, tips