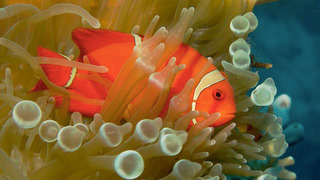 Editor's Note: The following article and photos are by Dennis Adams, co-author of Step Zero: Getting Started on a SCUBA Photo Trip
. Dennis is a TDS listener and wanted to contribute his expertise to our Outdoor Life section.
Considering the Canon S90 for UW Photography
I have been a world traveler and Under Water (UW) for many years. While I travel with a large, heavy, very capable DSLR that is enclosed in an UW housing and supported by two large UW strobes to illuminate the dark UW subjects, I also travel with a small P&S with an UW housing. The P&S serves as a walk around camera and a backup UW camera.
Your praise of the Canon S90 sparked my interest, as my current P&S is getting close to 7 years old and newer cameras have much more capability. In addition to your review of the S90, I researched and discovered that there are several manufactures producing UW housings for the S90.
I wanted an UW housing that was of proven durability, repairable, flexible, and lightweight. I tend to use my equipment for many years and only upgrade when there is a substantial performance improvement. Using antique equipment does not bother me as long as it does what is needed.
Equipment
I found an excellent review of UW P&Ss at Backscatter.com. I selected the S90 because:
It is physically small
Has excellent photographic performance and from a world class photo company
Will produce RAW image files
There are several UW housings to choose from
The S90 has with three excellent housings available:
Canon housing $
Fisheye aluminum housing $$$$
I selected the Ikelite housing because of their excellent demonstrated performance across all their products and world class factory repair support. A wide angle lens may be attached or removed from the housing while underwater. Other manufactures also produce a more capable macro lens for UW use (than what is included with the S90).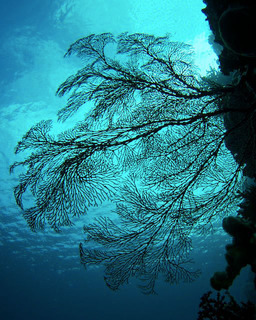 I was upgrading my 15 year old strobes to the new Sea & Sea YS-110a, which will connect to my camera via the usual electrical sync cord, or the newer fiber optic sync cord. I connected the camera end of the fiber optic sync cord for these new strobes to a small, home fabricated, plastic bracket held in place on the outside of the housing over the S90 flash with black electrical tape. This held the fiber optic cables in place so the camera flash would travel though them to the optical sync ports on my larger external flashes. The black tape also blocked any light from the camera flash going straight forward and causing backscatter from the particulates in the water. All strobes could then be easily connected either to the new housed S90, or my old housed DSLR with my Ultra Light Control System (ULCS) arms and handles.
Performance
The S90 fits snugly into the small Ikelite housing, and all camera controls are accessible by pushing housing buttons, twisting knobs or gear driven rings. I have operated my UW cameras in the manual mode for the past 30 years, and the S90 was no exception. With the camera set to manual mode:
The ISO set to 100 (I wanted max quality)
The flash set to forced-on and output power set to "minimum" (this low setting saved S90 battery power and still provided sufficient flash power to travel through the fiber optic cables to trigger the optical sync sensor on my external strobes)
The aperture setting was controlled via the twist knob on the front of the housing, (the aperture setting and strobe output power determine the subject illumination in UW photography)
The shutter speed was set to 1/60, 1/125 or 1/500 via the buttons on the back of the housing to obtain he desired background sea color of nice ocean blue or dark black. (the shutter speed setting determines the background color in UW photography)
The focus was set to auto and spot.
The image format was set to RAW only.
(I have not yet tried the video mode UW as I don't have UW video light to bring out the colors, but I may try natural light video in the future)
With these control settings, I was properly configured and was able to obtain proper subject and background exposure by adjusting camera controls and/or the output power of the external strobes. The S90 performed extremely well. The photos were in focus, properly illuminated, the background as desired and the image quality fully acceptable.
The Macro camera function enabled me to record small fish and the wide angle UW attached lens enabled me to photograph large subjects while I was very close (being close UW eliminates most the floating gunk between your camera and the subject). While S90 does not have the rapid sequential photo, high focusing speed, or flexibility of my housed DSLR, I was able to take excellent photos with normal P&S planning.
I recommend without reservation that you or others purchase an UW housing for your S90 so you too may enjoy its UW performance. Which housing you choose will depend on your desired usage and how much you wish to spend.
Thanks Dennis for that excellent review. I am now inspired to get a housing for my S90! As I mentioned at the top of the article, Dennis Adams is co-author of Step Zero: Getting Started on a SCUBA Photo Trip
.