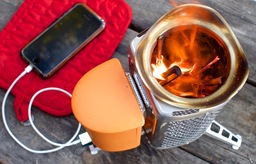 The BioLite Wood Burning Campstove ($129) is a marvel of technology and simplicity. The device initially seems basic. You gather a bundle of sticks, put them in the handsome fuel chamber, light with a match, and boil your water.
But there is plenty of magic under the hood to produce an intensely hot flame without smoke. The key is the power module that attaches to the side of the fuel chamber. The module can convert heat to electricity for powering a fan that intensifies the fire and produces surplus juice that is accessible via its USB port.
Essentially, you can brew your morning coffee and top off your iPhone, using only a pile of sticks gathered from your surroundings.
In my test, using only a moderate amount of fuel, I was able to boil 1 quart of water in 20 minutes. If you pack the fuel chamber with tinder, you can cut that time in half. Also, the hotter the fire the more surplus electricity generated. I added an 8 percent charge to the iPhone in 30 minutes with a moderate fire. Surplus electricity was being generated for only about 10 minutes of that cooking session. If I increased the fire, then I could charge my mobile device at a faster rate.
The BioLite stove is a shade over 8" tall and weighs 2.1 pounds. It's a reasonable size for backpacking, especially considering that you don't have to carry fuel cylinders too. The USB charging port allows for on-demand electricity. You don't have to wait for the sun to shine. If you need to power a small device, build a fire. I'm using it in conjunction with my WakaWaka USB Solar Charger ($69) to provide multiple options for managing my devices.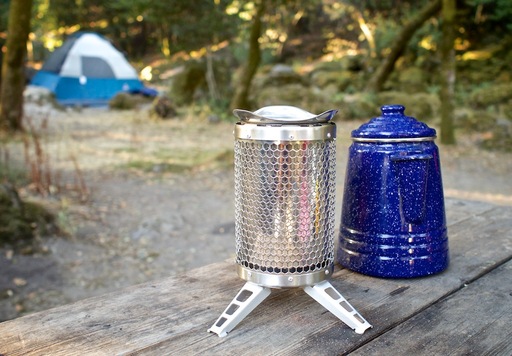 BioLite stove with my trusty enamel coffee pot. But you can purchase a companion high-tech cooking kettle that's more efficient. Photos by Derrick Story.
BioLite makes some nice accessories, including the BioLite KettlePot for efficient water heating and the Portable Grill Attachment ($59) for cooking your burgers.
Initially, I considered the BioLite stove more of a novelty than a serious cooking device. But after use, I've changed my view. If your primary goal is to boil water for backpacking meals, coffee, and purification, then this device is all you need. And the fact that it provides electricity for devices, and is fun to use, is a sizable bonus.
For more articles on outdoor gear and technique, take a look at our Outdoor Life Roundup.
Want to Comment on this Post?
You can share your thoughts at the TDS Facebook page, where I'll post this story for discussion.