"Here's a black-and-white version of a photo I took of Alcatraz while playing tourist with my son during our recent visit to San Francisco for MacWorld," writes Darryl Esakof. "As the harbor cruise circled Alcatraz in the late afternoon with the sun low in the west, some very interesting silhouettes appeared."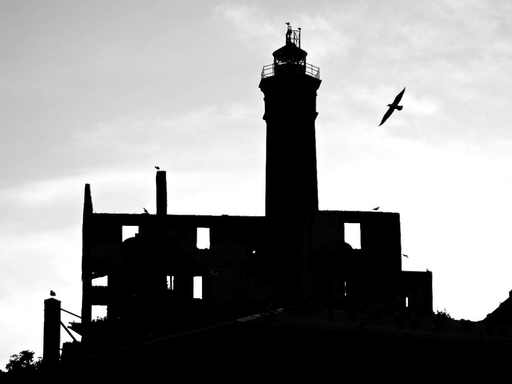 "Alcatraz by Darryl Esakof" Click on image for larger version.
Darryl captured the shot with a Canon S95 , ISO 80, 22mm, f4.9, 1/800 sec., then processed it in Aperture 3.
This is our 211th Grab Shot! Wow. If you want to review the collection that began back in 2006, go to our Grab Shots page.
If you have a candid you'd like to share, take a look at our Submissions page, then send us your Grab Shot. We'll try to get it published for you on The Digital Story.
And you can view more images from our virtual camera club in the Member Photo Gallery.
---
The Digital Story Podcast App is the best way to stream or download weekly TDS podcast episodes. No more syncing your iPhone, iPod Touch, iPad, or even your Android phone just to get a podcast. And the best part is, The Digital Story Podcast App is your way to help support this show. Download it today!
---