I've talked a great deal about how much I like the Epson R2000 13" fine art printer. Now, thanks to their mobile app, Epson iPrint, I can send jobs directly from my iPad to the R2000 over a WiFi network. (The R2000 has built-in WiFi.)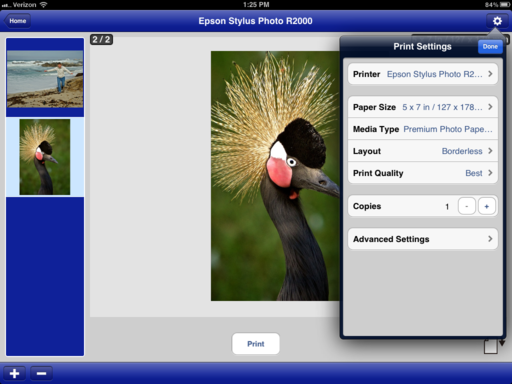 And unlike some other free printing apps I've tried, iPrint gives me a variety options including paper size up to 11" x 17", quality setting, color vs monochrome, brightness, contrast, and saturation.
If you have an R2000, or any number of other WiFi enabled Epson printers, take a look at this free app.
---
The Digital Story on Facebook -- discussion, outstanding images from the TDS community, and inside information. Join our celebration of great photography!
---