On Saturday, May 19, I'll be in San Jose, CA speaking for TWiP and SmugMug on How to Pack a KILLER Camera Bag, then on Tuesday, May 23 at 10am PDT, I'm conducting an online webinar titled, A Fresh Look at Familiar Subjects in B&W. Both events are free, but you do have to reserve your spot for the webinar (do that right now!)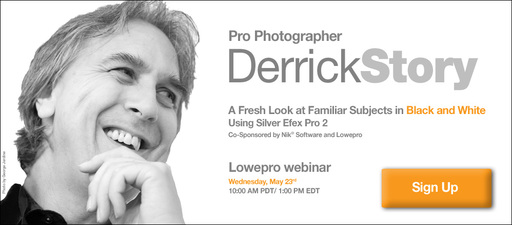 The engagements are also listed on the Events tab of The Digital Story Facebook Fan page, the best place to stay in touch with upcoming activities. Here's a brief look at the two talks for May.
How to Pack a KILLER Camera Bag - May 17
Ever wondered how exactly to pack a perfectly prepared camera bag for that next trip?
Photography and travel seem to go together like Starbucks and mobile devices. You can enhance your adventures by following a handful of basic tips for packing your gear.
Professional photographer Derrick Story will show you the things he's learned while covering assignments in Asia, North America, and Europe. He'll show you why he believes that the "nimble photographer" is a happy photographer.
And the best part is, following his advice, you'll travel smarter and have all the equipment you need to get the shot.
The second best part, our friends at Lowepro are donating a couple pro bags to raffle off that evening.
A Fresh Look at Familiar Subjects in B&W - Webinar -May 23
There are those subjects that we expect to see in black and white: landscapes, street shots, and editorial portraits. And then those we don't - such as the blaring lights of Las Vegas.
In this webinar sponsored by Nik Software and Lowepro, Derrick Story will show you how he uses Silver Efex Pro 2 to present a fresh look at familiar subjects. Derrick will explain how he uses Silver Efex Pro 2 in his overall photo management workflow, and present a few tips from his experience that you might apply to your own work. He will also share some of his favorite Lowepro bags and why they make working out of them in the field easier and more efficient.
I'm hoping that you can join me for one or both of these events, and be sure to say "hi!"
---
The Digital Story on Facebook -- discussion, outstanding images from the TDS community, and inside information. Join our celebration of great photography!
---