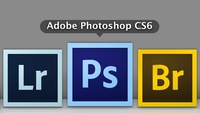 Good news out of San Jose. PetaPixel published an article pointing to an Adobe statement on the Photoshop.com blog, that Adobe "will provide support for HiDPI displays in the coming months, including the Retina Display available on the new MacBook Pro." According to the post, the updates will be free.
Photoshop CS6 and Lightroom 4 users who have the new MacBook Pro Retina Display should see quite a positive difference once the updates are available.
---
The Digital Story on Facebook -- discussion, outstanding images from the TDS community, and inside information. Join our celebration of great photography!
---