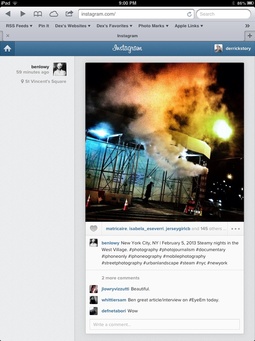 Viewing the Instagram app on an iPad has been annoying at best. The notion of browsing photos in the iPhone-sized interface felt like a waste of real estate.
Now a better experience is available for iPad photographers. They can point their web browsers to instagram.com, then log in with their credentials. After doing so, their Instagram photo feed now makes better use of the iPad's larger screen. I tested the site on both my iPad mini and the full size iPad Retina display. What an improvement.
In addition to viewing the picture feed, you can comment and like the images too. If you want to view your profile, tap on your name in the upper right corner. Unfortunately, you can't add pictures via the web interface -- you still need the app for that. But it's certainly more fun looking at photography using the site.
I added an "Instagram Web" button to my iPad Home Screen by tapping the Share button in Safari and choosing "Add to Home Screen."
---
Join me on my Instagram site as I explore the world of mobile photography.