We'll be covering the Sonoma County Hot Air Balloon Classic as our project for the Movie Making for Photographers workshop on June 15 and 16, 2013.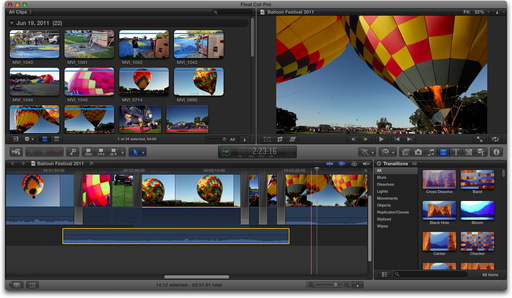 Joined by two professional filmmakers, Louis Ekrem of Laughing Cat Films and Eric Michael Perez of Clicker Video, you will learn how to tap the movie making functionality of your DSLR. This workshop is for photographers who want to learn how to use their existing gear to create short, impactful video for publishing.
The focus of our class project will be the beautiful Sonoma County Hot Air Balloon Classic. We'll be on site capturing footage, then learning how to maximize its impact using Final Cut X and iMovie applications.
Class size will be limited to six participants. Tuition is $495, that includes two full workshop days, breakfasts and lunches, comfortable working environment, and swag. Registration is open now. Use the "Send Me Info" form located on the TDS Workshops page. I will get you complete details about the event, including the registration form.
This is going to be an immersive, exciting weekend where you can focus solely on your photography.
About the Instructors
Louis Ekrem is the founder of Laughing Cat Films, based in Santa Rosa, California. His full service video production company provides high quality media services for business professionals, non-profit organizations, corporations, professional athletes and performing artists. Some of Northern California's finest businesses have put their faith in LCF to bring their timely and important messages to the world. Past LCF clients include: Bar Association of San Francisco, Center For Innovation and Resources, Creator's Art Productions, Ultramarathon Runner Dean Karnazes, FuzeMeeting.com, Kaiser Permanente, Leukemia & Lymphoma Society and Sonoma County Thunder to name a few.
Eric Michael Perez has been filming and creating still photos starting in the early 1970's when him and his friend would create skateboarding films shot on his dads 8mm movie camera. He was an early adopter using water housings to film water sports in the 1990's as both a top competitor and shooter of wake boarding, both for ESPN and his own productions. More recently Eric has been creating marketing pieces for wineries and small product manufacturers. Eric has been using DSLR cameras for his video productions since 2008. He currently uses a Canon 7D and a Lumix GH17
Derrick Story is a professional photographer, writer, teacher, and photography evangelist for Lowepro. He's authored several digital media books, including The Digital Photography Companion (O'Reilly Media) and iPad for Digital Photographers (Wiley & Sons). Derrick is a Senior Contributor for Macworld magazine where he writes a digital photography column, and he's a regular presenter on the popular training site, lynda.com featuring video titles on Aperture, iPhoto, Flickr, and photo technique.
Want to Comment on this Post?
You can share your thoughts at the TDS Facebook page, where I'll post this story for discussion.