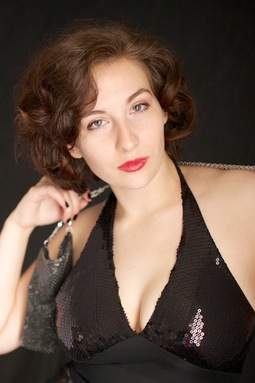 This week on The Digital Story: The gorgeous Sigma 35mm f/1.4 Art lens, creating a Frankenzoom, release of iPad for Digital Photographers, and SizzlPix winners!
Story #1 - The Sigma 35mm f/1.4 DG HSM Lens - I've been testing this beautiful chunk of glass on the Canon 5D Mark II, and I have to say, I love this lens. It's sharp and soft, all at the same time. What do I mean? Well, where you put the focus the image is crisp, but when shooting wide open the tail-off to softness is just beautiful. Take a look at the Lady Victoria portrait captured with the Sigma 35mm at f/1.4 on the Canon 5D Mark II, and see for yourself.
Story #2 - Frankenzoom - By now, you know that I hang on to optics, even if the camera they are designed for no longer works. When I needed to extend the optical reach of the zoom lens on the Fujifilm X20 compact camera for a recent NBA game (as a spectator), I found a 1.5X Canon teleconverter and mounted it on the X20. By doing so, I was able to extend the zoom from 112mm at f/2.8 to 168mm with no light loss.
Story #3 - iPad for Digital Photographers
is now shipping. I just received my print copy today, and it looks great. Please help support our virtual camera club and order yours today. It's $14.73 on Amazon.com. It makes a great gift too!
Story #4 - SizzlPix Pick of the Month! Congratulations to Mark Steven Houser, Kevin Ned Miller, and Phil Fisher, our recent SizzlPix Pick of the Month for Long Exposure, Self Timer, and Furry Friends Photo Assignment. Please send me mail, and we'll get your SizzlPix in the works.
Listen to the Podcast
You can also download the podcast here (26 minutes). Or better yet, subscribe to the podcast in iTunes. You can support this podcast by purchasing the TDS iPhone App for only $2.99 from the Apple App Store.
Monthly Photo Assignment
The April 2013 photo assignment is Architecture.
More Ways to Participate
Want to share photos and talk with other members in our virtual camera club? Check out our Flickr Public Group. And from those images, I choose the TDS Member Photo of the Day.
Podcast Sponsors
Red River Paper -- Keep up with the world of inkjet printing, and win free paper, by liking Red River Paper on Facebook.
Make Your Photos Sizzle with Color! -- SizzlPix is like High Definition TV for your photography. SizzlPix Spring Sale - 25% Discount! Offer good on orders placed by April 30. Again, "TDS" or "The Digital Story" in the comments space. Of course, they will honor the discount for all TDS listeners and readers, including those who've received SizzlPix samples.
Need a New Photo Bag? Check out the Lowepro Specialty Store on The Digital Story and use discount code LP20 to save 20% at check out.
Want to Comment on this Post?
You can share your thoughts at the TDS Facebook page, where I'll post this story for discussion.