Our eyes have this wonderful ability to render sky and foreground at the same time. Our cameras need a little help. If you like sunrise and sunset photos, and are tired of having the foreground go to black, here are three options that should improve your composition.
Bridgeport at Twilight by Derrick Story
The Graduated Filter
The Bridgeport at Twilight image was captured using a Cokin Grad Density filter. Yes, it's the old fashioned way to balance sky and foreground. But it has the advantage of getting the image right in-camera, saving you computer time once you return home.
You can get set up fairly affordably with kits such as the Cokin H250 P-Series ND Grad Kit
for $82 that includes the holder that mounts on the front of your lens and the filters that go in it. Just slide the graduated filter up and down until you get the effect you want, then take the picture.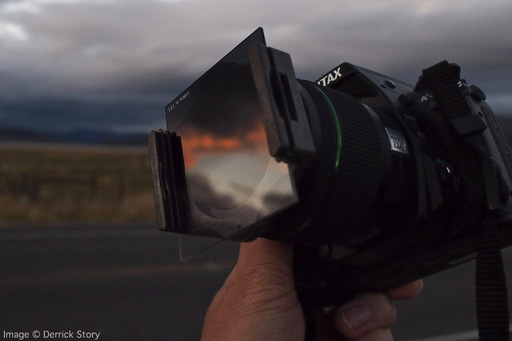 Pentax K-5 with Cokin Graduated Filter. Photo by Derrick Story. Click on image for larger size.
Merge Two Exposures in Photoshop
Another approach is to mount your camera on a tripod and take two pictures: one exposed for the sky, and the second exposed for the foreground. Then you can merge the best areas of the two exposures in Photoshop.
Photographer Steve Berardi has posted a helpful tutorial explaining this technique on his site. Take a look at How To Merge Two Exposures. You'll need to have some familiarity with Photoshop to apply these steps. But if you do, the process is straightforward.
I think it's a good idea to shoot a bracketed series of important landscape shots anyway, regardless of the technique you're planning on using. Those bracketed exposures can come in handy once your return home. Who knows, you might want to try an HDR composite...
High Dynamic Range (HDR)
While your camera is still on the tripod, take 3 or 5 bracketed exposures. You can set this up in the menu of your camera. I usually make the exposures 1 f/stop apart. Something like -1, 0, +1 or -2, -1, 0, +1, +2. But you may find that 2/3 of a stop works better. It depends on your gear and aesthetics, and it's worth playing with.
Once you have your sequence, then you can create an HDR merge in Photoshop or a specialized HDR application. Photographer Colin Smith has published a helpful tutorial titled What is HDR and why do we need it?. It will help you get started with this technique.
Bottom Line
Sunrise and sunset pictures are favorites, for sure. And you can take your twilight shots to the next level by trying one of these techniques. A little bit of foreground can make the sky all that much better.
Want to Comment on this Post?
You can share your thoughts at the TDS Facebook page, where I'll post this story for discussion.
---
Join me on my Instagram site as I explore the world of mobile photography.