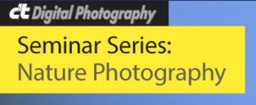 If you love nature photography, check out this lineup for the upcoming seminar by c't Photography on Oct. 19 in Santa Monica, CA. Not one, not two, but four amazing photographers will be presenting - Ralph Clevenger, George Lepp, Tim Mathiesen, and Ian Shive. These guys know their stuff, and they will share their knowledge freely with you.
Now here's the best part, I can get you in the door for $139. That includes a full day of instruction, lunch, and a one year subscription to c't Photography (that's worth $49 alone). Here's how to get the discount, contact Devon Bell at 805-687-2208, or write her at devon@rockynook.com, and tell her that Derrick tipped you off to this deal.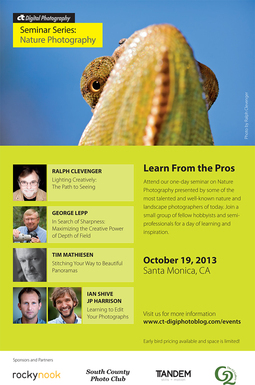 The event will be held at the Doubletree Suites Santa Monica, 1707 Fourth Street, Santa Monica, CA, and will run from 8:00 am to 5:00 pm on Saturday, Oct. 19. Each photographer has prepared a presentation.
Lighting Creatively: The Path to Seeing - Ralph Clevenger
In Search of Sharpness: Maximizing the Creative Power of Depth of Field - George Lepp
Stitching Your Way to Beautiful Panoramas - Tim Mathiesen
Learning to Edit Your Photographs - Ian Shive w/ JP Harrison
If you're in the Southern California area the weekend of Oct. 19, then I would definitely sign up for this event. Remember, to get the discount, you have to contact Devon directly. And if you do attend, please let me know how it went for you.
---
Join me on my Instagram site as I explore the world of mobile photography. And now Instagram features 15-second movies too.
Want to Comment on this Post?
You can share your thoughts at the TDS Facebook page, where I'll post this story for discussion.