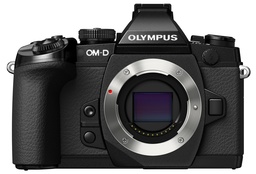 The Olympus OM-D E-M1 is the successor to both the OM-D E-M5 and the E-5, providing excellent performance with both micro four thirds and four thirds lenses. How did they accomplish this feat? By developing "Dual Fast AF" that works for both types of mounts.
When a micro four thirds lens is mounted on the E-M1, it uses contrast detection AF for swift focusing. When Four Thirds glass is attached via an Olympus adapter, the camera switches to on-chip phase detection AF. I had a chance to shoot with both mounts, and indeed the technology works.
Evolved Look and Feel
As a result of this feature integration, the E-M1 looks different than either the E-M5 or E-1. In many ways, it's a whole new camera. The E-M1 does retain the distinctive electronic viewfinder housing of the E-M5. But Olympus has added a built-in grip and rearranged the top deck controls. The on/off switch has moved from the back of the camera to the top left (as you hold it in shooting position). And the exposure mode dial is now on the right side.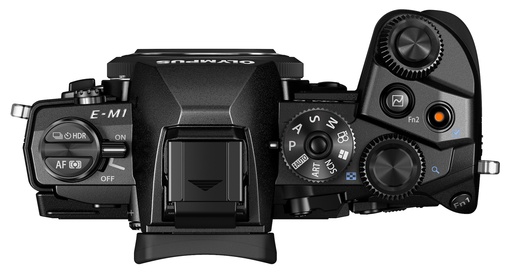 Currently, there is only a black model available. Some of the finer details are also different, such as the textures for the control dials and the shapes of buttons and switches.
New Features
As you may have anticipated, there are plenty of feature improvements with the new model. Here are a few of the highlights.
37-point On-Chip Phase Detection AF and 81-point Contrast Detection AF (auto switching)
New TruePic VII processor (the Live MOS sensor retains its 16MP resolution)
Built-in WiFi for both image transfer and remote camera control
Freeze proof body to -10 C (in addition to dust and splash proof)
Super large Electronic Viewfinder that is quite impressive (2.36M-dot LCD, 0.74x magnification)
Built-in HDR function
10 fps burst mode
1/8000th of a second top speed mechanical shutter
Diorama II Art Filter
Connectors for X-sync flash and microphone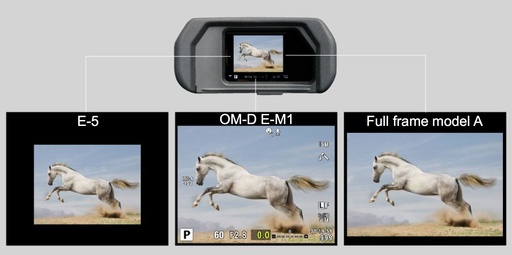 Pricing and Availability
The new OM-D E-M1 will be available in Oct. 2013 for $1399.99 (body only). If you want to use Four Thirds lenses, you'll also need to purchase the MMF-3 Four Thirds Lens to Micro Four Thirds Lens Mount Adapter ($156).
I'm hoping to receive a camera to test soon. I'll report more after some hands-on work.
Want to Comment on this Post?
You can share your thoughts at the TDS Facebook page, where I'll post this story for discussion.
---
Join me on my Instagram site as I explore the world of mobile photography. And now Instagram features 15-second movies too.