You want to travel light. But at the same time, you probably don't want your gear bouncing around unprotected. The approach I use in these situations is called "bag within a bag." In fact, I'll be traveling with this setup tonight while attending an NBA game.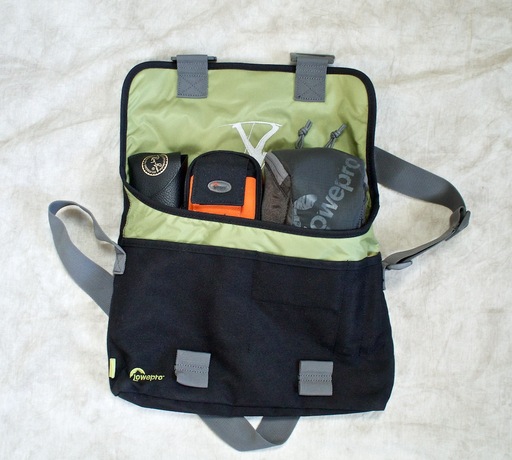 It works like this. You start with a lightweight shoulder bag that's comfortable, not too big, and looks good. In my case, I'm using the Walking Man Shoulder Bag. One of the reasons why I like this carrying solution is that it's so versatile. I can pack an iPad mini and a camera in it tonight, then switch to a water bottle and lunch tomorrow for an afternoon picnic.
The key to protecting my gear when I'm carrying photo equipment is to use protective pouches for the individual items. For example, my Olympus OM-D E-M5 with a 17mm f/1.8 lens will fit nicely in a Lowepro Dashpoint 30 pouch (shown on the right in gray).
Not only will the Dashpoint protect the OM-D in the shoulder bag, but it has its own strap and attachment system. So I can use it in a variety of configurations outside of this scenario. I'll also put an extra lens or two in a pouch, drop in my iPad mini, and I'm ready to have a great time.
By using "bag within a bag," I can travel light, look discreet, and have what I need for the moment. For instance, I'll have the Walking Man Shoulder Bag on my person all night tonight because it's so light. That means that it won't be stolen, spilled on, or crushed.
If I'm on assignment, then I have to take more serious gear and carrying solutions. But when my goal is to have a good time, yet be able to capture great images, I like to use this type of rig.
---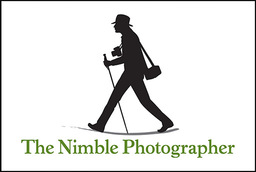 This approach has a high Nimbleosity Rating. What does that mean? You can learn about Nimbleosity and more by visiting TheNimblePhotographer.com.
Want to Comment on this Post?
You can share your thoughts at the TDS Facebook page, where I'll post this story for discussion.