This week on The Digital Story photography podcast: GoPro HERO3+ Black Edition tops the Weekly Update; Taking the Transporter Sync for a Spin; From the Screening Room: Chris Orwig, Lightroom 5 Essentials; and on the Nimbleosity Report: the Square Perfect Backdrop System- All of this and more on today's show with Derrick Story.
Story #1 - The Weekly Update: Hands-on with the GoPro Hero 3+ Black Edition (DP Review) Supports 4K, 2.7K, 1440p & 1080p Video. "It has better battery life, quicker Wi-Fi speeds with longer range, is more compact with the new case, has a significantly improved microphone, and the best image quality I've seen from a GoPro to date." In other news, Adobe Camera Raw release candidate supports 14 new cameras including Sony A6000, Fuji X-T1 (but no corresponding Lightroom update). (Imaging-Resource). And finally, Olympus Patents Impressive 12 and 14mm f/1.0 Ultra-Wide AF Lenses (PetaPixel).
Story #2 - Taking the Transporter Sync for a Spin.
I've been testing the Transporter Sync ($99) for an upcoming Lynda.com title that I'm working on for backing up your mobile photos. I'm still in the early stages of learning about this device, but I have a few things to share with you now.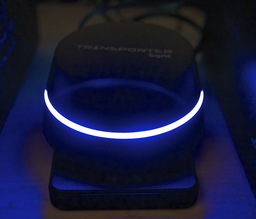 This is the standalone version of the transporter that doesn't include a hard drive. The thinking is that you add your own USB hard drive and it becomes a transporter.
One of the first things to note, is that whatever drive you use has to be completely erased by the transporter before it's available for storage. Once the Transporter has finished configuring the drive is then available for use.
You can access content on the drive the a desktop application, web browser, or iOS or android device. Right now I have a portable drive connected to the transporter that uses USB fo its power. I might switch to a drive with its own power supply to see if that increases performance.
The iOS app was more basic than I had anticipated. You can add images from your camera roll to your Transporter via your iPad or iPhone. But you can't do anything with them such as rename the file names put them in folders organize them things like that. And in fact, you can't even browse the images by icon. So all you end up with is a list of filenames without any indication of what the subject for the photo is.
At this point, I don't see the Transporter replacing services such as Loom that I think have more functionality for mobile photographers. It could be used as a straight back up solution, and I'm exploring that more and will report once I come to some conclusions about it.
Story #3 - From the Screening Room - Chris Orwig, Lightroom 5 Essentials. This week's featured artist is The enthusiastic Chris Orwig, who is an excellent Lightroom instructor. Chris shows you the things that you need to know to really master the basics of Lightroom 5.
You can watch Chris in action by visiting the TDS Screening Room at lynda.com/thedigitalstory. While you're there, you can start your 7 day free trial to watch other photography titles, plus every other topic in the library.
Story #4 - The Nimbleosity Report - The Square Perfect Backdrop Background Support Stand. This backdrop frame allows you to set up just about anywhere you have 10 feet of room. Plus it's affordable at lesson $70. And it breaks down to a pretty compact package. I talk more about it in the final segment of today's show.
Virtual Camera Club News
Photo Assignment for February 2014 is Smartphone.
The SizzlPix! Head to Head Challenge
Order a SizzlPix! using the image from which you've already made your best print. If, when you receive your SizzlPix!, you don't feel that it's the best version of your image ever, return yours within 30 days for a full refund.
Oh, and BTW: SizzlPix! now is qualified for PayPal "Bill Me Later," No payments, No interest for up to 6 months, which means, have your SizzlPix! now, and pay nothing until August!
BTW: If you're ordering through B&H or Amazon, please click on the respective ad tile under the Products header in the box half way down the 2nd column on thedigitalstory.com. That helps support the site.
Listen to the Podcast
In addition to subscribing in iTunes, you can also download the podcast file here (24 minutes). You can support this podcast by purchasing the TDS iPhone App for only $2.99 from the Apple App Store.
More Ways to Participate
Want to share photos and talk with other members in our virtual camera club? Check out our Flickr Public Group. And from those images, I choose the TDS Member Photo of the Day.
Podcast Sponsors
lynda.com - Learn lighting, portraiture, Photoshop skills, and more from expert-taught videos at lynda.com/thedigitalstory.
Red River Paper -- Keep up with the world of inkjet printing, and win free paper, by liking Red River Paper on Facebook.
SizzlPix! - High resolution output for your photography. You've never seen your imagery look so good. SizzlPix.com.
Want to Comment on this Post?
You can share your thoughts at the TDS Facebook page, where I'll post this story for discussion.