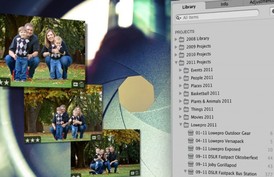 It's that time of year when we look at our cluttered closets and think that it might be time to get our house in order. Well, the same could be said for our photo libraries.
With prime picture taking season right around the corner, wouldn't it be nice to have your Aperture library as tidy as your sock drawer? (This might be a bad comparison for some folks...)
My first post for the lynda.com blog is 5 tips for organizing your photos in Aperture. I cover the following topics to help keep your Aperture library spic and span.
Think in terms of projects
Use folders to reduce clutter
Build virtual collections with Albums
Be consistent with naming conventions
Use star ratings to identify your best work
And there's more to come. In the next post for lynda.com, I discuss how to set up your laptop for vacation travel photo management. Summer road warriors will definitely want to read that one.
Aperture Tips and Techniques
To learn more about Aperture, check out my Aperture 3.3 Essential Training (2012) on lynda.com. Also, take a look at our Aperture 3 Learning Center. Tons of free content about how to get the most out of Aperture.
---
The Digital Story on Facebook -- discussion, outstanding images from the TDS community, and inside information. Join our celebration of great photography!
---