This week on The Digital Story photography podcast: How Memory Cards Work; FrankenPod: the Joby Ballhead X on the MeFOTO DayTrip Tripod; and the 10000 dpi film scanner - All of this and more on today's show with Derrick Story.
Story #1 - The Weekly Update: Canon Reveals Plans for a Full Frame Sensor Smartphone. You thought Sony did the impossible with a large sensor compact camera. Well Canon has revealed that they are jumping on the mobile device bandwagon in a big way with a full frame sensor smartphone. Source: April Fools!
In other news, Olympus brings PEN style and 5-axis IS to Stylus SH-1 travel zoom. It looks like a PEN, but it's really a $399 compact camera. (DP Review).
And finally, Reflecta's New 35mm Scanner Promises Unprecedented Resolution. German manufacturer Reflecta has a new 35mm film scanner with a nominal resolution of up to 10.000 dpi, which is higher than anything you'll find on other consumer film scanners. In addition, the ProScan 10T promises a very high dynamic range of 3.9 DMax, which should be sufficient even for scanning such dense slide films as Velvia 50. Est. cost $650 US. (The Phoblographer).
Story #2 - How Memory Cards Work - We use them everyday, but do you know how your card manages its files? I'll cover erasing and formatting in this second segment.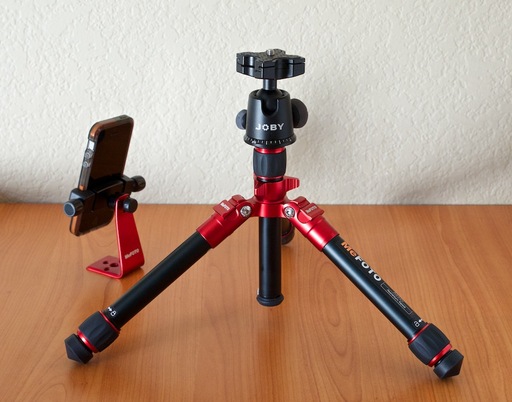 Story #3 - The Nimbleosity Report - The MeFOTO DayTrip Tripod ($119) with the Joby Ballhead X. This super compact tripod weighs only 1.8 pounds and folds to 9.4". Combined with Ballhead X and the SideKick360, you have a versatile tripod solution for both cameras and smartphones. Does it belong in your Nimble Photographer bag? I'll tell you what I think in the third story.
Virtual Camera Club News
Workshop News: The Sonoma Coast Photography Workshop is scheduled for August 22-24, 2014. And the dates are set for the Fall Color with Safari West Workshop, October 24-26, 2014. You can learn about them both, plus request a reservation form by visiting the TDS Workshops Page and using the "Send Me Info" box.
Photo Assignment for April 2014 is "Flower Power".
If you haven't done so already, please post a review for The Digital Story Podcast in iTunes.
BTW: If you're ordering through B&H or Amazon, please click on the respective ad tile under the Products header in the box half way down the 2nd column on thedigitalstory.com. That helps support the site.
Listen to the Podcast
In addition to subscribing in iTunes, you can also download the podcast file here (32 minutes). You can support this podcast by purchasing the TDS iPhone App for only $2.99 from the Apple App Store.
More Ways to Participate
Want to share photos and talk with other members in our virtual camera club? Check out our Flickr Public Group. And from those images, I choose the TDS Member Photo of the Day.
Podcast Sponsors
Red River Paper -- Keep up with the world of inkjet printing, and win free paper, by liking Red River Paper on Facebook.
SizzlPix! - High resolution output for your photography. You've never seen your imagery look so good. SizzlPix.com. SizzlPix! now is qualified for PayPal "Bill Me Later," No payments, No interest for up to 6 months, which means, have your SizzlPix! now, and pay nothing until August!
Want to Comment on this Post?
You can share your thoughts at the TDS Facebook page, where I'll post this story for discussion.