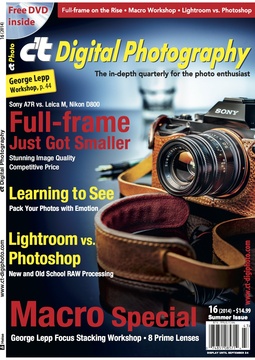 The next issue of c't Digital Photography Magazine is ready to go to press. But I have the cover to preview now.
Topics include full-frame cameras, Lightroom vs Photoshop, macro photography, and much more.
New subscribers can receive a 20% discount through the end of May. If you subscribe by Friday, you'll be included in the first shipment of this latest issue.
c't Digital Photography Magazine is for those who like depth and detail. It's German engineering for photography. If you want to see for yourself, check out their Free Downloads Library. If this type of expertise is appealing to you, take advantage of the May Discount Offer. Subscribers also receive the electronic version of the publication.
Want to Comment on this Post?
You can share your thoughts at the TDS Facebook page, where I'll post this story for discussion.