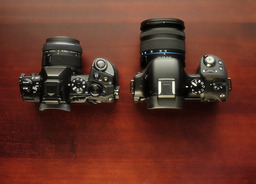 This week on The Digital Story photography podcast: Samsung NX30 - Does a bigger sensor justify a larger camera?; a PDF Library for Technically Minded Photographers (with free downloads); and Shooting Better with the iPhone 5s - All of this and more on today's show with Derrick Story.
Story #1 - The Weekly Update: The top story this week is the Get a FREE copy of onOne Software's Perfect Effects 8 Premium Edition ($99.95 value). All you have to do is provide you name and email to download. Works with Lightroom, Aperture, Photoshop, and as a standalone. Requires 8GBs of RAM. Terrific software! (Source: onOne Software)
In other news, Olympus OM-D E-M10 Full Review on Imaging-Resource.com. I've fallen in love with this little camera. This review highlights many of the reasons why.
And finally, Canon releases report on consumer fraud saying that 18 percent have unknowingly purchased counterfeit consumer electronics. It's an interesting study worth perusing. (Source Canon USA)
Story #2 - Samsung NX30: Does a bigger sensor justify a larger camera? Holding the NX30 feels more like handling a small DSLR than a mirrorless ILC. But you also get that beautiful APS-C sensor. Is it worth it?
Here are a few my favorite features on the NX30:
20.3 MP APS-C CMOS sensor
Tiltable electronic viewfinder and articulated 3" LCD screen
WiFi and NFC connectivity
Includes Lightroom 5
Currently available for $799 with 18-55mm zoom
But how does it stack up compared to its micro four thirds competitors? I discuss during this segment of the show.
Story #3 - New Online Resource for Technically Minded Photographers. Our friends over at c't Digital Photography Magazine have just launched a PDF Library with free article downloads. Topics include: Managing Multiple Cameras with Lightroom, Micro Four Thirds Lens Review, Image Processing in 32-bit Mode, Time-lapse Photography, How to Shoot Gigapixel Images, Build your Own Studio Gear, and more.
As part of this Grand Opening, you can receive a 20 percent discount for an annual subscription, that includes both paper and electronic versions of the magazine.
Story #4 - From the Screening Room - Shooting with the iPhone 5s with Ben Long. Do you have an iPhone but feel like you aren't getting the most out of its built-in camera? If that's the case, this week's Screening Room selection is for you.
You can watch Ben in action by visiting the TDS Screening Room at lynda.com/thedigitalstory. While you're there, you can start your 7 day free trial to watch other design, photography, and computing titles, plus every other topic in the library.
Virtual Camera Club News
New SizzlPix Winners! Congratulations to Mike Boening (Dec 2013 High ISO #93), Kyle Howard (Jan 2014 White # 94), and David Blanchard (Feb 2014 Smartphone #95). You are the latest class of SizzlPix Pick of the Month photographers.
Workshop News: I've sent out invites to the Reserve List for the Fall Color with Safari West Workshop, October 24-26, 2014. You can learn about them both, plus request a reservation form by visiting the TDS Workshops Page and using the "Send Me Info" box.
Photo Assignment for May 2014 is "Around the House".
If you haven't done so already, please post a review for The Digital Story Podcast in iTunes.
BTW: If you're ordering through B&H or Amazon, please click on the respective ad tile under the Products header in the box half way down the 2nd column on thedigitalstory.com. That helps support the site.
Listen to the Podcast
In addition to subscribing in iTunes, you can also download the podcast file here (32 minutes). You can support this podcast by purchasing the TDS iPhone App for only $2.99 from the Apple App Store.
More Ways to Participate
Want to share photos and talk with other members in our virtual camera club? Check out our Flickr Public Group. And from those images, I choose the TDS Member Photo of the Day.
Podcast Sponsors
lynda.com - Learn lighting, portraiture, Photoshop skills, and more from expert-taught videos at lynda.com/thedigitalstory.
Red River Paper -- Keep up with the world of inkjet printing, and win free paper, by liking Red River Paper on Facebook.
SizzlPix! - High resolution output for your photography. You've never seen your imagery look so good. SizzlPix.com. SizzlPix! now is qualified for PayPal "Bill Me Later," No payments, No interest for up to 6 months, which means, have your SizzlPix! now, and pay nothing until August!
Want to Comment on this Post?
You can share your thoughts at the TDS Facebook page, where I'll post this story for discussion.