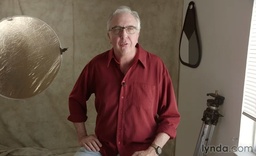 Light is the soul of photography. And when it comes to portraits, it's one of the first things I think about. In the title, Photographing High School Senior Portraits, I talk about the lighting considerations and preparations for capturing an engaging portrait.
The focus in this movie is scouting locations prior to the shoot so you're confident about the light you'll have to work with when the subject is there. It's good food for thought. And if you have a portrait shoot coming up, or are ready to add senior portraits to your freelance business, I think you'll find this video helpful.
If the movie doesn't play here, you can watch it by clicking on this link.
Learn More About the Art and Business of Portraiture
In my lynda.com title, Photographing High School Senior Portraits, I'll show you how to organize, photograph, and deliver great images for fun or profit. Take a look at the free movies and see for yourself.
Want to Comment on this Post?
You can share your thoughts at the TDS Facebook page, where I'll post this story for discussion.