This week on The Digital Story Photography Podcast: See iOS 8's Time-Lapse Mode in Action, Instagram 6: It's like a real photo app, and Sailing Off to the British Isles - All of this and more on today's show with Derrick Story.
Story #1 - The Weekly Update: iOS 8's Time-Lapse Mode Demonstrated - Cool movie shows off time-lapse video captured with an iPhone 5S and iOS 8 (source: PetaPixel).
In other news, Adobe Announces Camera Raw 8.5 Release Candidate. Support is added for Fuji FinePix S1, Nikon 1 J4, Nikon 1 V3, Olympus OM-D E-M10, Panasonic LUMIX DMC-GH4 (*) and a batch of new lenses. More information at http://labs.adobe.com (Source: Imaging Insider).
And finally, DxO Optics Pro 9.5 Intelligent Integration with Lightroom via c't Digital Photography.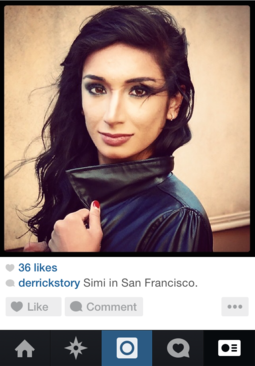 Story #2 - Instagram 6: It's like a real photo app - Don't get me wrong, I love Instagram. But let's be real, it was viewed as more of a toy than a real photo app. Well, Version 6 just might change all of that. Here's why.
Story #3 - The Nimbleosity Report: "Sailing Off to the British Isles." As of Wednesday, I'm hopping across the big pond to explore England, Ireland, Wales, and Scotland. I discuss what this trip entails, and how it might prove entertaining for you.
Story #4 - From the Screening Room - Enhancing a Black-and-White Wedding Photo with Lightroom with Jan Kabili. Weddings lend themselves to B&W photography, probably because of their timeless nature. Jan demonstrates some terrific Lightroom techniques to help you maximize this opportunity.
You can watch Jan in action by visiting the TDS Screening Room at lynda.com/thedigitalstory. While you're there, you can start your 7 day free trial to watch other design, photography, and computing titles, plus every other topic in the library (including my brand new "Photographing High School Senior Portraits."
Virtual Camera Club News
From SizzlPix: they've streamlined the SizzlPix! website, so that ordering is now easy as 1-2-3.
From any page, go to "Original Low Prices." Decide on your size and hanging option.
From there, click on the big blue button, "From Yours" at the top of the page.
After filling in the abreviated order form, you're taken automatically to the upload page to send in your image.
Save on Ground Shipping for Red River Paper: Use coupon code ground50c to receive a 50 percent discount on UPS ground shipping for Red River Paper. No minimum purchase required.
Photo Assignment for June 2014 is "Any Kind of Light but Natural".
If you haven't done so already, please post a review for The Digital Story Podcast in iTunes.
BTW: If you're ordering through B&H or Amazon, please click on the respective ad tile under the Products header in the box half way down the 2nd column on thedigitalstory.com. That helps support the site.
Listen to the Podcast
In addition to subscribing in iTunes, you can also download the podcast file here (33 minutes). You can support this podcast by purchasing the TDS iPhone App for only $2.99 from the Apple App Store.
More Ways to Participate
Want to share photos and talk with other members in our virtual camera club? Check out our Flickr Public Group. And from those images, I choose the TDS Member Photo of the Day.
Podcast Sponsors
lynda.com - Learn lighting, portraiture, Photoshop skills, and more from expert-taught videos at lynda.com/thedigitalstory.
Red River Paper -- Keep up with the world of inkjet printing, and win free paper, by liking Red River Paper on Facebook.
SizzlPix! - High resolution output for your photography. You've never seen your imagery look so good. SizzlPix.com. SizzlPix! now is qualified for PayPal "Bill Me Later," No payments, No interest for up to 6 months, which means, have your SizzlPix! now, and pay nothing until August!
Want to Comment on this Post?
You can share your thoughts at the TDS Facebook page, where I'll post this story for discussion.