This week on The Digital Story Photography Podcast: No Laptop Travel, Memory Card Recovery, Padcaster Mini - All of this and more on today's show with Derrick Story.
Story #1 - The Weekly Update: Shoot RAW with Your Mobile Phone. The next version of Google's Android OS might build that capability right in to your mobile device. "Android Police has taken a look at the developer documentation and found that Android L will allow for Raw DNG image capture." (source: DP Connect).
In other news, 5 Reasons Why Beginners Should Invest in a Prime Lens. Terrific video that smartly recaps the advantages of a prime lens, especially the affordable 50mm f/1.8. (Source: PetaPixel).
And finally, Sony Cyber-shot DSC-RX10 Digital Camera Dips to $998 from nearly $1,300 just last week. This all-in-one travel camera features a 1" sensor and Carl Zeiss 24-200mm f/2.8 lens.
Story #2 - No Laptop Travel - I'm leaving the MacBook Pro behind this week as I fly to Maui. I'll use my iPad mini to process photos, post on social networks, and even maintain the TDS website. I talk about this approach, and the apps I'll use, in today's second segment.
Story #3 - Memory Card Recovery - I have a new training on lynda.com titled, Recovering Photos from Memory Cards where I cover many facets of taking care of your camera's SD and CF cards. Here are a few tips from that research.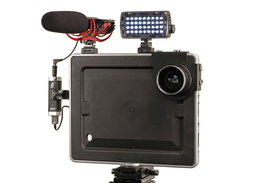 Story #4 - The Nimbleosity Report: "Padcaster Mini" - The Padcaster Mini is a rugged aluminum frame with tons of threaded holes on all sides and a flexible insert that holds the iPad snugly. The $99 kit comes with the frame, insert, a lens bracket and step-down ring, four screws to hold it in place, and a cold-shoe adapter that you can pop your favorite light or mic into. More about its usefulness in the fourth segment of today's show.
Virtual Camera Club News
From SizzlPix: Now, for The Digital Story listeners and readers, this month only, SizzlPix will knock off 20% of the price for your SizzlPix, any quantity, any size up to 6 feet! Just put the initials TDS or "The Digital Story" in the comments space of their new, simplified online order form. SizzlPix.com.
Save on Ground Shipping for Red River Paper: Use coupon code ground50c to receive a 50 percent discount on UPS ground shipping for Red River Paper. No minimum purchase required.
Photo Assignment for July 2014 is "Smokin' Hot".
If you haven't done so already, please post a review for The Digital Story Podcast in iTunes.
BTW: If you're ordering through B&H or Amazon, please click on the respective ad tile under the Products header in the box half way down the 2nd column on thedigitalstory.com. That helps support the site.
More Ways to Participate
Want to share photos and talk with other members in our virtual camera club? Check out our Flickr Public Group. And from those images, I choose the TDS Member Photo of the Day.
Podcast Sponsors
Red River Paper -- Keep up with the world of inkjet printing, and win free paper, by liking Red River Paper on Facebook.
SizzlPix! - High resolution output for your photography. You've never seen your imagery look so good. SizzlPix.com. SizzlPix! now is qualified for PayPal "Bill Me Later," No payments, No interest for up to 6 months, which means, have your SizzlPix! now, and pay nothing until January!
Want to Comment on this Post?
You can share your thoughts at the TDS Facebook page, where I'll post this story for discussion.