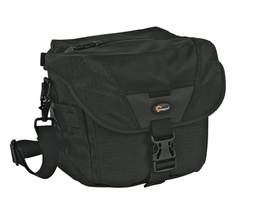 This professional reporter's bag was co-designed by former Washington Times photographer Kevin Gilbert who covered the White House among his many assignments. B&H is now featuring the Stealth Reporter D200 AW Shoulder Bag for $59. That's a savings of $47 from its normal $106 price (with free expedited shipping).
Top features include:
Padded, Tricot-lined pocket offers protection for photo viewers or other digital devices
Removable memory card wallet protects up to 12 memory cards
Removable accessory pouch provides easy access to cables, adaptors and other digital accessories
An All Weather Cover provides protection for your gear in extreme conditions
Padded Tricot lined top lid (will not scratch your SLR when placed in the bag)
Water-resistant top zipper provides quick access to gear
Uses attachment loops for optional SlipLock add-on accessories
Luggage trolley strap quickly secures your bag to luggage handle
Key fob on front of case
Customizable stability strap distributes weight evenly when used in shoulder strap or waist applications
And the "stealth" feature is that there's an opening on the top of the bag that allows you to reach in and grab your camera without having to open the flap.
It's a very cool shoulder bag at a great price...
Want to Comment on this Post?
You can share your thoughts at the TDS Facebook page, where I'll post this story for discussion.