This week on The Digital Story Photography Podcast: Olympus PEN E-PL7, Jerry Uelsmann, DIY LCD Shade - All of this and more on today's show with Derrick Story.
Story #1 - Very flashy: Ricoh unveils Pentax K-S1 DSLR - The K-S1 offers a 20.1MP APS-C sensor, an AA filter simulator (as seen on the Pentax K-3) and burst shooting at 5.4 fps, but none of that is quite as attention-grabbing as its headline body specification - a set of green LEDs on the camera's grip and power switch. (Source: DP Review).
In other news, Secrets of Backyard Bird Photography by J. Chris Hansen has just been published ($24.95). Topics include camera set-ups and the use of backgrounds and photo blinds, composition styles, step-by-step projects for the do-it-yourselfer and techniques to attract birds using feeders and perches. (Source: PhotographyBlog.com).
And finally, Dropbox now offers its pro users 1TB of storage for $9.99 a month. Dropbox now offers its pro users 1TB of storage for $9.99 a month. And if you sign up for a year (in the US), the price drops to $99. (Source: Imaging-Resource.com).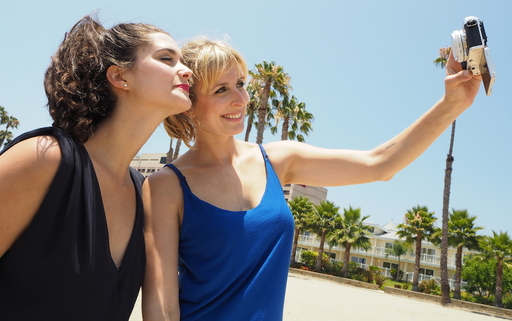 Story #2 - Olympus Debuts the PEN E-PL7 Aimed at Social Media Photographers - The latest Micro Four Thirds PEN camera from Olympus takes aim at two segments of the photography community: women and online publishers.
The styling and the size of the E-PL7 is a better fit for female photographers. In addition to the design of the camera itself, Olympus has created smart looking accessories that further enhance the device's appearance.
Furthermore, Olympus has updated their O.I.Share app and created an easy-to-use wireless system that connects the E-PL7 to a smart phone or tablet. BTW: O.I.Share 2.4 is now available in the App Store. The clever "flip down" LCD screen makes it easier than ever to hold the camera for selfie capture. They've even built an entire feature set around self-portraits.
I discuss how all of this hangs together in the second segment of today's show. (And you can read my preliminary report on the E-PL7 at c't Digital Photography Magazine.
Story #3 - From the Screening Room - Jerry Uelsmann & Maggie Taylor: This is not photography. Jerry and Maggie are two of the best surreal, visual storytellers of our era. In this compelling documentary, the filmmakers at lynda explore their vision and technique. It's a compelling journey.
You can watch Jerry and Maggie in action by visiting the TDS Screening Room at lynda.com/thedigitalstory. While you're there, you can start your 7 day free trial to watch other design, photography, and computing titles, plus every other topic in the library.
Story #4 - Tried of Trying to Compose Photographs on an LCD in Bright Sun? I have a solution for you... and you can create it yourself in just a few minutes - Photography Hacks: Make an LCD Shade, Battery Protector, and Lighting Field Kit.
Virtual Camera Club News
The SizzlPix September Discount Order early, starting today, and for every day between now and the end of September, SizzlPix will subtract 1% (one-percent) from the cost of your order. Remember the rhyme, "30 days hath September ..." You can see how much you'll save! Remember to put TDS September Discount in the comments field.
Red River Paper just released RRP Luster Card Duo again. It's a double-sided luster paper pre-scored for cards. It is related to Arctic Polar Luster, but the surface is more pearlescent. You can find it here: http://tinyurl.com/om9zapu
Visit the Red River Paper Card Shop. You can peruse top selling cards, order the card sample kit, and read tutorials on card printing. Save on Ground Shipping for Red River Paper. Use coupon code ground50c to receive a 50 percent discount on UPS ground shipping for Red River Paper. No minimum purchase required.
Photo Assignment for September 2014 is "Shot from Behind".
If you haven't done so already, please post a review for The Digital Story Podcast in iTunes.
BTW: If you're ordering through B&H or Amazon, please click on the respective ad tile under the Products header in the box half way down the 2nd column on thedigitalstory.com. That helps support the site.
Download the Show
In addition to subscribing in iTunes, you can also download the podcast file here (31 minutes). You can support this podcast by purchasing the TDS iPhone App for only $2.99 from the Apple App Store.
More Ways to Participate
Want to share photos and talk with other members in our virtual camera club? Check out our Flickr Public Group. And from those images, I choose the TDS Member Photo of the Day.
Podcast Sponsors
lynda.com - Learn lighting, portraiture, Photoshop skills, and more from expert-taught videos at lynda.com/thedigitalstory.
Red River Paper -- Keep up with the world of inkjet printing, and win free paper, by liking Red River Paper on Facebook.
SizzlPix! - High resolution output for your photography. You've never seen your imagery look so good. SizzlPix.com. SizzlPix! now is qualified for PayPal "Bill Me Later," No payments, No interest for up to 6 months, which means, have your SizzlPix! now, and pay nothing until January!
Want to Comment on this Post?
You can share your thoughts at the TDS Facebook page, where I'll post this story for discussion.