This week on The Digital Story Photography Podcast: Panasonic's Smartphone with a 1" Sensor, Lowepro's new ProTactic Urban Backpack, and Olympus Announces the 40-150mm f-2.8 PRO Lens - All of this and more on today's show with Derrick Story.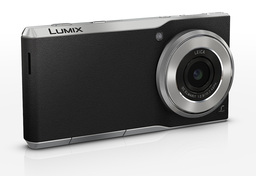 Story #1 - Panasonic announces Lumix DMC-CM1 smartphone with 1-inch sensor. "The 1" sensor is around seven times larger than the 1/3"-type sensors that are common on more conventional smartphones. The large sensor is coupled with an F2.8 Leica lens that offers an equivalent focal length of 28mm. This is by far the best camera specification on any smartphone and the 20MP resolution should even allow for a good-quality digital zoom. The CM1 is also capable of recording 4K-video and Raw images. Focus, aperture, shutter speed, ISO and white balance can all be adjusted manually, and there's a mechanical click-wheel around the lens "barrel" on the front of the camera/phone." (Source: DP Connect).
In other news, Panasonic LX100 takes its own road: RX100-series rival boasts 4/3-inch sensor, blazing performance. "Panasonic has opted for the same 4/3"-type sensor size it uses in its mirrorless cameras, and that offers almost double the surface area of a 1"-type chip. The difference shows itself in a sensitivity range that tops out at a lofty ISO 25,600." (Source: PhotographyBlog.com).
And finally, Panasonic Gives Its GM Series a Boost with the EVF-Toting GM5. "... just to the left of its hotshoe you'll find an all-new EVF with 1.1 million dots, designed to work seamlessly with the included external flash. The update also brings a new control dial on the back to compliment the touchscreen interface; and despite using the same sensor as the GM1, the GM5 is now capable of pushing out 1080p video at up to 60 frames per second." (Source: PetaPixel).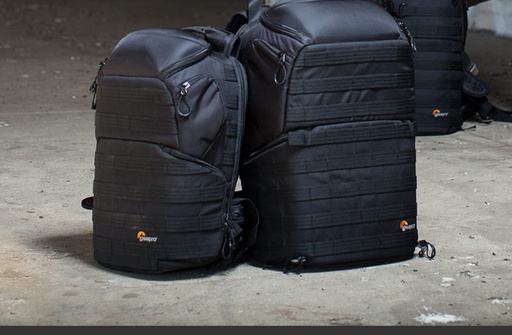 Story #2 - Lowepro Debuts the ProTactic 350 AW Camera and Laptop Backpack ($199). This urban backpack features access points on top, sides, and back. It accommodates up to a 13" laptop. Includes 5 modular accessories, removable waist belt, newly designed dividers, tripod holder, AW cover, and brand new ActivZone System Harness system. And if you need more storage space, there's the ProTactic 450AW.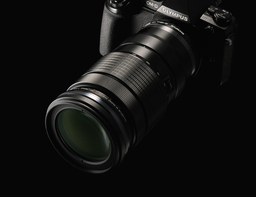 Story #3 - Olympus Announces the 40-150mm f-2.8 PRO lens ($1,499). Specs include: 16 elements in 10 groups, 9-blade aperture, 72mm filter ring, two high-grade lens elements using dual linear VCM (Voice Coil Motor) motors, minimum focusing distance of 20 inches, dedicated function button, sliding lens hood, and it's just over 6" in length. Available in November.
Story #4 - From the Screening Room - Foundations of Photography: Night and Low Light with Ben Long. Ben says in this movie, "In this course, we are going to take a look at all kinds of low-light shooting situations, from trying to get good results in a dimly lit room in your house to prowling around in the dark, looking for photos that cannot exist with higher light levels."
You can watch Ben in action by visiting the TDS Screening Room at lynda.com/thedigitalstory. While you're there, you can start your 7 day free trial to watch other design, photography, and computing titles, plus every other topic in the library.
Virtual Camera Club News
The SizzlPix September Discount Order early, starting today, and for every day between now and the end of September, SizzlPix will subtract 1% (one-percent) from the cost of your order. Remember the rhyme, "30 days hath September ..." You can see how much you'll save! Remember to put TDS September Discount in the comments field.
Visit the Red River Paper Card Shop. You can peruse top selling cards, order the card sample kit, and read tutorials on card printing. Save on Ground Shipping for Red River Paper. Use coupon code ground50c to receive a 50 percent discount on UPS ground shipping for Red River Paper. No minimum purchase required.
Photo Assignment for September 2014 is "Shot from Behind".
If you haven't done so already, please post a review for The Digital Story Podcast in iTunes.
BTW: If you're ordering through B&H or Amazon, please click on the respective ad tile under the Products header in the box half way down the 2nd column on thedigitalstory.com. That helps support the site.
Download the Show
In addition to subscribing in iTunes, you can also download the podcast file here (28 minutes). You can support this podcast by purchasing the TDS iPhone App for only $2.99 from the Apple App Store.
More Ways to Participate
Want to share photos and talk with other members in our virtual camera club? Check out our Flickr Public Group. And from those images, I choose the TDS Member Photo of the Day.
Podcast Sponsors
lynda.com - Learn lighting, portraiture, Photoshop skills, and more from expert-taught videos at lynda.com/thedigitalstory.
Red River Paper -- Keep up with the world of inkjet printing, and win free paper, by liking Red River Paper on Facebook.
SizzlPix! - High resolution output for your photography. You've never seen your imagery look so good. SizzlPix.com. SizzlPix! now is qualified for PayPal "Bill Me Later," No payments, No interest for up to 6 months, which means, have your SizzlPix! now, and pay nothing until January!
Want to Comment on this Post?
You can share your thoughts at the TDS Facebook page, where I'll post this story for discussion.