The latest version of DxO OpticsPro was introduced right before PhotoPlus Expo. It can be used as a standalone app or integrated in to a Lightroom 5.7 workflow. And for RAW shooters, it adds a fast, powerful way to process those files.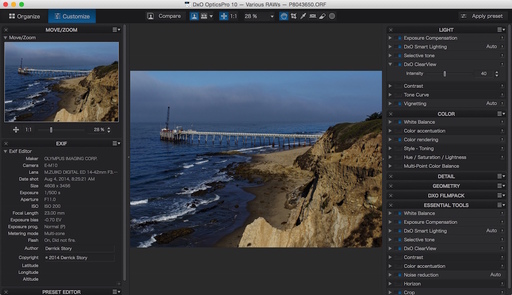 The starting point workspace for DxO OpticsPro. It can be configured to your tastes.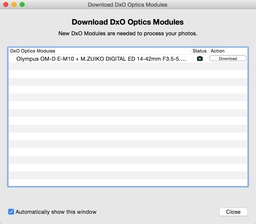 In my opinion, DxO OpticsPro is for photographers who want their images to shine, but who don't necessarily want to spend a lot of time fiddling with them in post. The software has a knack for bringing out the best in a photograph through its intelligent algorithms and lens profiles that correct distortion, minimize noise, enhance contrast. And with the latest version, removes haze via a new feature called ClearView.
I wrote about ClearView in an article titled, New ClearView Feature Shines in DxO OpticsPro 10. In short, it wipes away atmospheric haze for landscapes, and air pollution for urban scenes. I also discuss how to integrate DxO with Lightroom 5.7 in the article.
The bottom line is this: DxO OpticsPro 10 Elite costs $149 (through Dec. 25th) and is an intelligent, easy-to-use RAW processor that produces beautiful results.
It runs on Mac or Windows computers, can also fine-tune Tiffs and Jpegs, and supports camera and lens profiles for most popular hardware. In my case, all of my Canon, Olympus, and Panasonic gear had profiles.
And to be honest, I really like what it does to my RAW files.
Want to Comment on this Post?
You can share your thoughts at the TDS Facebook page, where I'll post this story for discussion.