I just love the fact that my most popular Flickr photo of 2014 was recorded during a spontaneous tutorial at the TDS SF Street Photography Workshop last May.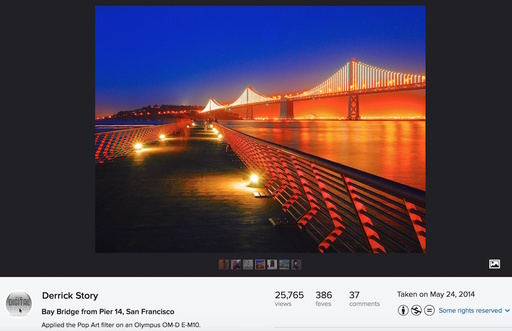 We were scattered about on Pier 14 admiring the night view of the Bay Bridge. Some of the participants had already made some great photos. So I thought we'd do an unplanned tutorial on using Live Time on the Olympus OM-D E-M10.
Using a Mefoto DayTrip Tripod positioned on top of a covered refuse can, I composed the shot. For a little extra spice, I also enabled one of the Art Filters. I so enjoyed being part of the group huddled around the camera as we watched the image come to life.
A few days later, I posted the shot on my Flickr page, and it soon showed up on Explore. It just goes to show, you never know when you're going to capture that popular image...
---
Flickr Essential Training - I explore the entire Flickr universe, mobile and computer, in my lynda.com title, Flickr Essential Training. Stop by and take a look.
Want to Comment on this Post?
You can share your thoughts at the TDS Facebook page, where I'll post this story for discussion.