This week on The Digital Story Photography Podcast: Manual Exposure Mode Situations, Photo Q&A: How to Shoot a Buffalo, Gifts for Photographers Under $100, a Surprise Birthday Party - All of this and more on today's show with Derrick Story.
Snapshot - The Birthday Party - I think it's difficult going to an event as a civilian, then suddenly being pressed in to duty for the big shot. I discuss a case in point in this week's snapshot.
Weekly Update - Cactus V6 update adds Micro Four Thirds and Metz flashguns to wireless control list - Olympus FL-50R, FL-36R and Panasonic FL-500R and FL-360R. (Source: DP Review)
In other news, Rumor: FAA may kill commercial drone operations by requiring a full pilots' license (Source: Imaging-Resource)
And finally, 20 Dos and Don'ts for Shooting the Moon - Do use a tripod and telephoto lens; don't use a slow shutter speed and image stabilization. (Source: Digital Photography School).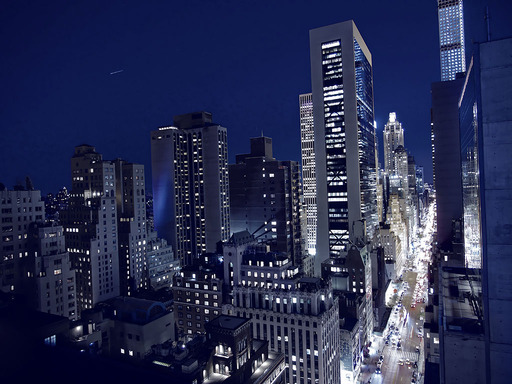 Manual exposure was used to capture this NY night scene. Photo by Derrick Story.
Story #1 - 5 Situations for Manual Exposure:

Nighttime exposures outside
Fill flash indoors
Off-camera flash outdoors
Flowing waterfalls
Street shooting
Story #2 - Photo Q&A with Leah - "Shooting Dark Objects in Contrasty Midday Light" - Leah wants to photograph a buffalo. To help her, I cover RAW, spot metering, and recovering shadow detail. 
Story #3 - 10 Photo Gifts Under $100 - I've published a fun post over at lynda.com Article Center with some terrific gift ideas for photographers, under $100. Here are a few of my favorites from that list:
Virtual Camera Club News

Photo Assignment for December 2014 is "Frozen".

Red River Paper - Save 10 percent off your next order of inkjet paper and greeting cards. Good one per customer. Use discount code STORY10X - Ends 1/15/15.

And Finally...

If you haven't done so already, please post a review for The Digital Story Podcast in iTunes.

BTW: If you're ordering through B&H or Amazon, please click on the respective ad tile under the Products header in the box half way down the 2nd column on thedigitalstory.com. That helps support the site.

Download the Show

In addition to subscribing in iTunes, you can also download the podcast file here (37 minutes). You can support this podcast by purchasing the TDS iPhone App for only $2.99 from the Apple App Store.

More Ways to Participate

Want to share photos and talk with other members in our virtual camera club? Check out our Flickr Public Group. And from those images, I choose the TDS Member Photo of the Day.

Podcast Sponsors

lynda.com - Learn lighting, portraiture, Photoshop skills, and more from expert-taught videos at lynda.com/thedigitalstory.

Red River Paper -- Keep up with the world of inkjet printing, and win free paper, by liking Red River Paper on Facebook.

SizzlPix! - High resolution output for your photography. You've never seen your imagery look so good. SizzlPix.com. SizzlPix! now is qualified for PayPal "Bill Me Later," No payments, No interest for up to 6 months, which means, have your SizzlPix! now, and pay nothing until June!

Want to Comment on this Post?

You can share your thoughts at the TDS Facebook page, where I'll post this story for discussion.