As we've learned more details about Photos for Mac OS X, it's clear that power users will need a supplemental application to augment Photos' initial shortcomings. This is especially important in the area of metadata management and star ratings (both of which will be absent in Photos V1.)
I've been testing onOne Perfect Browse 9, and it shows promise as a robust complement to just about any workflow, and hopefully for Apple's upcoming Photos app.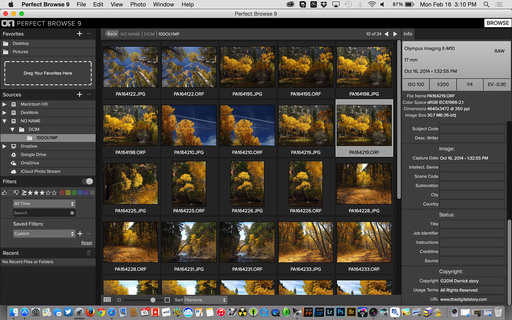 Perfect Browse 9 running on a Yosemite-powered Mac.
What is Perfect Browse 9?
Think of Perfect Browse as a handy front end to Aperture, Lightroom, Photoshop, and hopefully Photos. Perfect Browse will display thumbnails and previews from a variety of sources, including memory cards, hard drives, Dropbox, iCloud Photo Stream, OneDrive, Google Drive, and more.
Once the images are displayed in Perfect Browse, you can add star ratings, apply a color label, and mark as a favorite. The star ratings and color labels are compatible with Aperture. So if you apply them in Perfect Browse, they will appear in there after transfer.
There's also solid metadata management. I selected an entire group of images in Perfect Browse, added my copyright and contact information, and all of that data traveled with the images to their next stop.
Sample Workflow with Perfect Browse 9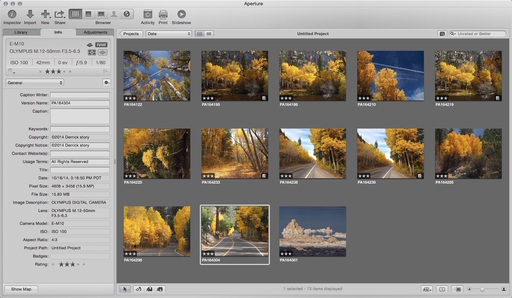 Images received in Aperture from Perfect Browse 9 with star ratings and metadata intact.
Here's how I tested this application:
Inserted memory card into Mac and launched Perfect Browse 9.
Sorted images by File Type to separate the RAWs from the Jpegs.
Applied star ratings to the images that I wanted to move to Aperture.
Filtered the entire shoot by star rating so only my picks were on the screen.
Applied my IPTC information to the entire set of picks.
Selected the "Send to Aperture" option.
Images were imported into a new Aperture project with star ratings and metadata intact.
I'll keep testing Perfect Browse 9 and update you if anything substantially new surfaces. You can download a free 30 day trial from the site and test for yourself. If you like it, the purchase price for the Premium Edition is $59.95.
There's also a Basic Version of Perfect Browse 9 in the Mac App Store. I do not recommend purchasing that version at this time. There is a bug in the Mac App Store version that prevents transferring the images to another application.
Bottom Line
Perfect Browse 9 is on my short list of possible companion apps for Photos for Mac OS X. Its speedy browsing of Jpegs and RAWS make it fun to use. Plus, it handles basic rating and metadata with ease. Keep an eye on this one. Hopefully onOne will make it super-compatible with Photos for Mac OS X.
Aperture Tips and Techniques
To learn more about Aperture, check out my Aperture 3.3 Essential Training (2012) on lynda.com. Also, take a look at our Aperture 3 Learning Center. Tons of free content about how to get the most out of Aperture.
---
Want to Comment on this Post?
You can share your thoughts at the TDS Facebook page, where I'll post this story for discussion.