DxO Optics Pro is in the news today with their 10.3 release. Olympus also announces a handsome new travel camera with a 24X zoom and RAW support. And finally, Adobe released Photoshop Mix 1.5 with added support for Adobe Ink and the Cloud Clipboard.
DxO OpticsPro 10.3 Supports New Cameras, Adds Features
The latest update to DxO's image-processing software features support for the Nikon D5500, Canon PowerShot SX60 HS, and Olympus PEN E-PL7, as well as new correction tools and an improved user experience.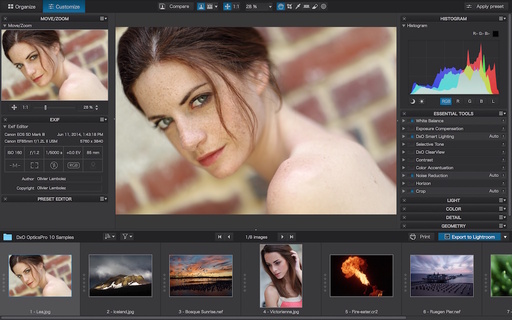 The Mac OS X version also offers a new drag-and-drop feature that allows photographers to directly open a folder by dragging it into the Image Browser, providing quicker access to images. The correction tools have been revisited, now adding greater finesse and ease to DxO OpticsPro. The Horizon slider now makes small rotations easier to perform, and the Dust tool is also easier to use.
DxO OpticsPro v10.3 is now available in the DxO online store at a special discount through March 31, 2015.
Olympus Announces the New Stylus SH-2
The Olympus Stylus SH-2 features a 24x wide-angle optical zoom lens, built-in Wi-Fi connectivity for remote shooting and sharing with a smart device, RAW capture capability, and 5-Axis Image Stabilization that supports both still image and video capture. The SH-2 also adds new Nightscape Modes for night scenes and portraits.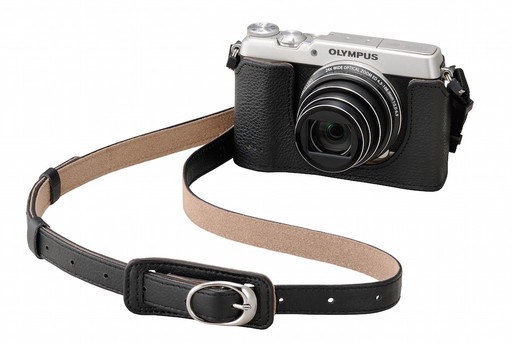 The Olympus Stylus SH-2 will be available in April at an estimated street price of $399.99 (available in Black and Silver). For a complete list of specifications, visit the Olympus site.
Adobe Updates Photoshop Mix 1.5 for iPad and iPhone
Adobe has released Photoshop Mix 1.5 with added support for Adobe Ink and the Cloud Clipboard, allowing users to browse an album of their creative assets that can be pasted into an image in Photoshop Mix with one touch of the stylus. Photoshop Mix also now supports Wacom and Pencil styluses.
Also new in this update is the ability to merge images. In Overview, drag one image on top of another to combine them into a single image. Also, when the app is launched, prior to signing-in, users will get a quick hands-on demo of how to cut out part of one photo and add it to another to create a combination image.
Photoshop Mix is a free app for the iPhone and iPad and is built with Adobe's Creative SDK to integrate a seamless mobile workflow with Creative Cloud.
Want to Comment on this Post?
You can share your thoughts at the TDS Facebook page, where I'll post this story for discussion.