This week on The Digital Story Photography Podcast: Photos for OS X Gets Update with El Capitan, Conflicting Reports on the State of the Camera Industry, Free Film Emulator - all of this and more on today's show with Derrick Story.
Weekly Update - "Sony rides wave of US Mirrorless sales surge". DP Review reports: "Mirrorless sales in the USA are rising, with sales values up 16.5% over the past year, says market researcher NPD Group. Sony highlighted the figures while celebrating its own success: with the success of the a7 series helping it generate 66% more income from mirrorless sales over the last twelve months. NPD Group says DSLR sales values fell 15% over the same period. Sony also points out that the Consumer Electronics Association has recently chosen 'Mirrorless' (short for Mirrorless Interchangeble Lens Camera) as its approved term for the class of cameras, with ILC as an umbrella term for Mirrorless and DSLRs."
In other news... "April numbers show 40 percent increase in DSLR shipments, stagnant for mirrorless" Imaging-Resource reports: "Camera & Imaging Products Association (CIPA) has published the numbers for April camera shipments. According to the publication, DSLR shipments have increased roughly 40 percent, a surprising stat when you take into consideration DSLR sales declined steadily over the past few years. Also revealed in the numbers is the continuing trend of stagnant mirrorless camera shipments. Since early 2013, mirrorless shipments have been been all but flat, with a few dips, both up and down, in Fall of 2013 and Winter of 2014, respectively."
Story #1 - "Photos for OS X Gets Minor Update with El Capitan" - If you scroll down a ways on the El Capitan Preview Notes, you'll see two notable items:
New editing extensions let you go further with your photos
OS X El Capitan supports third-party tools that will be available from the Mac App Store and accessible right in the Photos app. Use multiple editing extensions from your favorite developers on a single photo, or use a mix of extensions and the editing tools built into Photos. From adding subtle filters to using beautiful texture effects, you can take your photo editing to a whole new level.

Everything in its place
Photos has been fine-tuned to make it even easier to manage your library. Now you can add a location to a single image or to an entire Moment. Naming your favorite people in Faces is faster with a streamlined workflow. You can also sort your albums -- and the contents inside them -- by date, title, and more.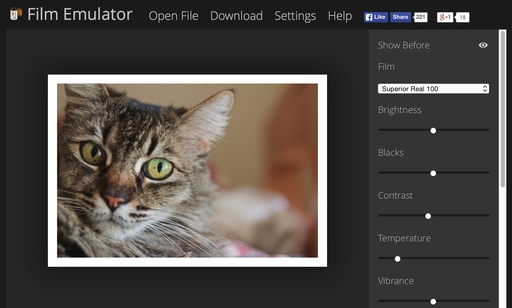 Story #2 - "Free Online Film Emulator"
This is really cool. I first learned about Film Emulator from a PetaPixel article. So I had to try it myself. All you have to do is point your browser to http://29a.ch/film-emulator/, upload an image, and play with a variety of presets and adjustments. I do recommend turning on "Show advanced controls" in the Settings window. Also, in my testing, the downloaded image needs a name and a .jpg extension. Fun stuff!
Story #3 - From the Screening Room - Foundations of Graphic Design History with Sean Adams. We wander off a bit from the photography path this week, but it's an interesting look at graphic design history.
You can watch Sean in action by visiting the TDS Screening Room at lynda.com. While you're there, you can start your 7 day free trial to watch all of Sean's movies, plus every other title in the library (including over 20 by yours truly).
Virtual Camera Club News
Eastern Sierra Workshop This Weekend - We have a great crew congregating at the Silver Maple Inn in Bridgeport, CA for the debut of the TDS Bodie and the Eastern Sierra Photo Workshop. I'll have images and reports for you in the next podcast.
Show Off with SizzlPix
Do you want to blow away friends and family with your photography? Then hang a 5k Ultra High Definition SizzlPix on the wall at home. You won't believe the comments.
Give it a try. They'll send Digital Story listeners and readers a free mini-proof before production; just put "proof first, TDS" in the comment space on the SizzlPix order page.
Red River Paper Discounts
Did you know that Red River Paper has a Discounts and Clearance page? Ink, paper, greeting card stock, all at big savings.
Thanks to everyone who recently reviewed the TDS Podcast in iTunes!
BTW: If you're ordering through B&H or Amazon, please click on the respective ad tile under the Products header in the box half way down the 2nd column on thedigitalstory.com. That helps support the site.
Download the Show - MP3 Version
In addition to subscribing in iTunes, you can also download the podcast file here (29 minutes - MP3 version). You can support this podcast by purchasing the TDS iPhone App for only $2.99 from the Apple App Store.
More Ways to Participate
Want to share photos and talk with other members in our virtual camera club? Check out our Flickr Public Group. And from those images, I choose the TDS Member Photo of the Day.
Podcast Sponsors
lynda.com - Learn lighting, portraiture, Photoshop skills, and more from expert-taught videos at lynda.com/thedigitalstory.
Red River Paper -- Keep up with the world of inkjet printing, and win free paper, by liking Red River Paper on Facebook.
SizzlPix! - New 5k Ultra High Definition SizzlPix output for your photography. You've never seen your imagery look so good. SizzlPix.com.
Want to Comment on this Post?
You can share your thoughts at the TDS Facebook page, where I'll post this story for discussion.