This week on The Digital Story Photography Podcast: 5 Must Have Micro Four Thirds Lenses, Dropbox for Photographers, Shooting 4K Video for Still Images, Tips for a Gallery Showing - all of this and more on today's show with Derrick Story.
Weekly Update - "Flickr brings back Pro account option" DP Review reports: "With the return of new Pro subscriptions, Flickr has rolled out a few new features. Pro accounts now include 'improved stats' and a revamped interface for viewing analytics, ad-free viewing of your own and others' photos and a 20% discount on Adobe Creative Cloud's Photography plan for yearly subscribers (annual Pro plans only). However, new Pro plans no longer come with unlimited storage, as new subscribers are subject to the same 1TB cap applied to free accounts.
Flickr Pro is offered for to those who currently don't have a Pro plan for $5.99/month or $49.99/year. So what happens to existing paid Flickr accounts? Flickr's 'ad-free' plan subscribers will be upgraded automatically to Pro status at no extra cost. Existing Pro members will also be upgraded, keeping their current pricing for two years and their unlimited photo storage. "
In other news... "Shooting 4K Video for Still Photographs: A Quick Test" PetaPixel reports: "At 30 frames a second, I had a lot to choose from. I imported the clip into FCP X. I put the clip in the browser window and expanded it to full screen. I could shuttle through and also go frame by frame using the right or left arrows. Once I had the frame I wanted I chose to "share" as a still image. You have the option of a TIFF or JPEG. I chose JPEG and imported it into Aperture to do some final tweaking and cropping."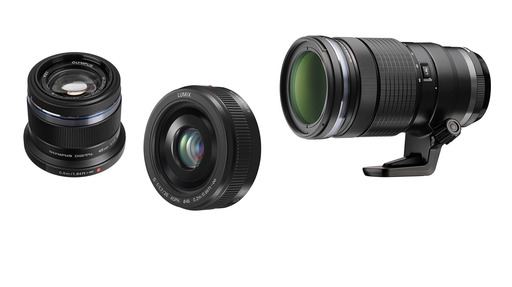 Story #1 - "5 Must Have Micro Four Thirds Lenses" -
One of the most common emails that appears in my inbox is inquiring about the best lens to adorn a new Micro Four Thirds camera. Here are my five favorites.
I discuss each of these lenses in the first feature of today's show.
Story #2 - The How to Sell Your Fine-Art Prints: A Primer. Here are a few things to think about:
Pricing Your Prints: Gallery owners agree... You can always raise prices, but you can never lower them. In addition to pricing their work too high before they're established, emerging artists make the mistake of issuing editions that are too large.
What Does "Limited Edition" Really Mean? Twenty years ago, an edition of less than 20 prints was rare; now galleries rarely sell work by a photographer who prints in editions of more than ten. Collectors expect that the photographic prints they acquire remain scarce so they hold their value.
What to Expect from the Photographer/Gallery Relationship Who pays for production, promotion, shipping? What exactly does "exclusivity" or "consignment" mean? "A written document is essential," insists noted photography consultant Mary Virginia Swanson.
The Growing Market for Fine-Art Videos Technological developments are helping collectors get comfortable with the idea of purchasing video-based art. Buying video works no longer means committing to the installation of a bulky television or finding the space for a projector; video art and multimedia can now be displayed seamlessly on slim monitors hung cleanly on a wall.
Story #3 - Dropbox for Photographers
The thing I like so much about Dropbox is that I can use it for practically anything on any device. I have shared folders set up with TWiP, Rocky Nook, c't Digital Photography, and my own team. Every image that hits my iPad or iPhone is instantly archived in Dropbox and displayed in Carousel. And that includes all of the stuff that travels via WiFi from my OM-Ds and X-20 cameras.
Plus there is the Flashback feature, shared photo albums, comments, and more. So you can imagine how excited I was to finally get to record a lynda title especially for photographers using Dropbox.
Virtual Camera Club News
The Ultimate Lens Guide by c't Digital Photography is now available for download. This 65 page eBook features in-depth tests of more than 20 optics in the 50mm, telezoom, and macro categories. By using discount code: CTGUIDE120 you can get 20 percent off for a sale price of $7.99 through the end of the month.
Fall Color with Safari West: October 23-25, 2015 - Sonoma County has rolling hills covered in vineyards, beautiful trees, and gorgeous blue skies. What a prefect place to shoot Fall color and bolster your landscape library. But there's more. We include environmental portraiture with a professional model, and an exclusive African wildlife photo adventure at Safari West, led by a professional photographer, plus a few surprises. This is our longest running workshop of the season, and for good reason. Two full days plus pre-workshop reception, breakfast and lunch, excellent swag, professional model, private Safari West adventure with a pro photographer guide - all included for just $599.
Moving from Aperture to Photos or Lightroom - August 7-8 - Now that Aperture will no longer be developed, many photographers are contemplating their next move. In this software workshop, we'll explore the two leading contenders: Photos (part of the Yosemite Update) and Adobe Lightroom. By the time we conclude, you'll have a much clearer idea about your photo management future. Two full days plus breakfast and lunch - all included for just $495.
SizzlPix puts a new spin on printed photography
Here's a interesting article that leads off with: "As ultra-high-definition TVs and computer monitors are replacing high-definition screens on the market, a new Davis-based company called SizzlPix is taking this new technology into the realm of print photography." It's a good background piece on SizzlPix.
New Printer Article
Article from Red River Paper: Epson Pro 3880 vs. Epson SureColor P800. The Epson SureColor P800 is the direct replacement to the Pro 3880. Both are 17" wide desktop printers using nine inks to produce professional quality photography, fine art, and graphic design prints. The two printers are very closely related and share most of the same features.
Thanks to everyone who recently reviewed the TDS Podcast in iTunes!
BTW: If you're ordering through B&H or Amazon, please click on the respective ad tile under the Products header in the box half way down the 2nd column on thedigitalstory.com. That helps support the site.
Download the Show - MP3 Version
In addition to subscribing in iTunes, you can also download the podcast file here (32 minutes - MP3 version). You can support this podcast by purchasing the TDS iPhone App for only $2.99 from the Apple App Store.
More Ways to Participate
Want to share photos and talk with other members in our virtual camera club? Check out our Flickr Public Group. And from those images, I choose the TDS Member Photo of the Day.
Podcast Sponsors
lynda.com - Learn lighting, portraiture, Photoshop skills, and more from expert-taught videos at lynda.com/thedigitalstory.
Red River Paper -- Keep up with the world of inkjet printing, and win free paper, by liking Red River Paper on Facebook.
SizzlPix! - New 5k Ultra High Definition SizzlPix output for your photography. You've never seen your imagery look so good. SizzlPix.com.
Want to Comment on this Post?
You can share your thoughts at the TDS Facebook page, where I'll post this story for discussion.