This week on The Digital Story Photography Podcast: "LED Studio Lighting, Rumors About the Podcast, T-Shirt Winners, Sigma 24-35mm f/2 Art Lens Review" - all of this and more on today's show with Derrick Story.
Weekly Update - "Apple releases Digital Camera RAW 6.05, adds RAW support for ten new cameras". Imaging-Resource reports: "Apple has released Digital Camera RAW 6.05, a substantial update bringing support for ten new cameras to OS X Yosemite and OS X El Capitan, which is currently available as a public beta. Notables include the Fujifilm X-T10, Nikon D810A, Olympus STYLUS TG-4 Tough, and the Panasonic LUMIX DMC-G7."
In other news... "Sigma 24-35mm f/2 'Art' Lens Review: How does the world's fastest full-frame zoom perform?" Imaging-Resource reports: "This new zoom is the world's first constant-aperture f/2.0 zoom lens for full-frame DSLRs, which basically means you get three sharp f/2.0 primes -- 24mm, 28mm and 35mm -- in a single lens. Sigma is, once again, offering a unique lens that the major manufacturers simply do not offer! So, the big question is: How does it stack up? Very, very well."
Lens construction: 18 elements in 13 groups, including 2 aspherical, 1 FLD and 7 SLD elements; 9 aperture blades; weighs 33 ounces; Sigma, Canon, and Nikon mounts. Still waiting for details about price and release date.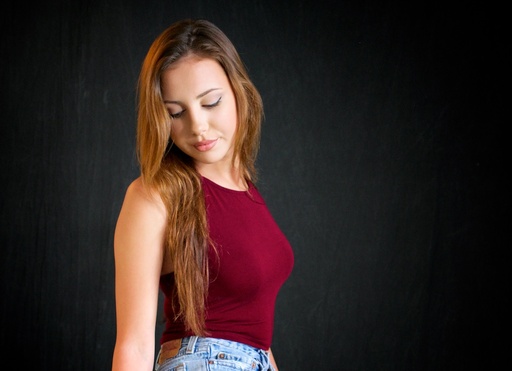 Portrait of Siobhan Anderson using LED studio lighting.
Story #1 - "LEDs Light Up My Studio" -
This has been an interesting journey for me. I never really liked professional studio lighting kits with the array of big modifiers. So I opted for more portable speedlites with smaller accessories. And they were fine. I then tried compact fluorescent lighting, and was happy to have a continuous source again. But I have to say, since I've switched to LED lighting, I've been the happiest ever in the studio.
Currently I'm using a pair of FotodioX Pro FlapJack LED Edge Lights that have variable power output and built-in diffusion. I could use AC power, but the lithium battery lasts so long, I don't have to. The color temperature ia a pleasing 5,500 K. And they are so easy to pick and move around during the shoot, I find myself being more creative. I talk more about LED lighting in today's first story.
Story #2 - T-Shirt Winners from the The Digital Story - Digital Photography Public Group Giveaway
Here's the scoop: Last week we had 123 members of our virtual camera club share photos with the TDS Public Group, most of them adding more than one image to the pool. Image quality and creativity were outstanding. I show people the gallery on my laptop and the first comment is usually something like: "Wow, they're really good!"
So without further ado, here are the names of those eligible to receive a free T-Shirt:
Joel_Favela
RHYockey
Jim Hansen
Garagewerks
callmeunity
Tim Gilbreath
mommapostal
Fran Polito
440 volts
LightMovesPhotography
If you name was called, please send email to thenimblephotographer@gmail.com with the subject line T-Shirt and your name (in the subject line). And in the body of the note, your T-Shirt size, your email address, shipping address, and phone (for shipper only). Congrats... and thanks to everyone who posted images.
Story #3 - Rumor has it... that The Digital Story podcast is moving over to the growing TWiP network. I clarify the situation in today's third feature.
Story #4 - From the Screening Room -Street Photography: Posed Portraiture with Steve Simon. Steve is one of those guys who can win the trust of strangers. Here's how he does it.
You can watch Steve in action by visiting the TDS Screening Room at lynda.com. While you're there, you can start your 7 day free trial to watch all of Steve's movies, plus every other title in the library.
Virtual Camera Club News
Fall Color with Safari West: October 23-25, 2015 - Sonoma County has rolling hills covered in vineyards, beautiful trees, and gorgeous blue skies. What a prefect place to shoot Fall color and bolster your landscape library. But there's more. We include environmental portraiture with a professional model, and an exclusive African wildlife photo adventure at Safari West, led by a professional photographer, plus a few surprises. This is our longest running workshop of the season, and for good reason. Two full days plus pre-workshop reception, breakfast and lunch, excellent swag, professional model, private Safari West adventure with a pro photographer guide - all included for just $599.
Moving from Aperture to Photos or Lightroom - August 7-8 - Now that Aperture will no longer be developed, many photographers are contemplating their next move. In this software workshop, we'll explore the two leading contenders: Photos (part of the Yosemite Update) and Adobe Lightroom. By the time we conclude, you'll have a much clearer idea about your photo management future. Two full days plus breakfast and lunch - all included for just $495.
Show Off with SizzlPix
Do you want to blow away friends and family with your photography? Then hang a 5k Ultra High Definition SizzlPix on the wall at home. You won't believe the comments.
Give it a try. They'll send Digital Story listeners and readers a free mini-proof before production; just put "proof first, TDS" in the comment space on the SizzlPix order page.
Tip from Red River Paper
Article from Red River Paper: Frame Your Images for Maximum Impact!. A helpful article to help you choose the right frame for your prints.
Thanks to everyone who recently reviewed the TDS Podcast in iTunes!
BTW: If you're ordering through B&H or Amazon, please click on the respective ad tile under the Products header in the box half way down the 2nd column on thedigitalstory.com. That helps support the site.
Download the Show - MP3 Version
In addition to subscribing in iTunes, you can also download the podcast file here (35 minutes - MP3 version). You can support this podcast by purchasing the TDS iPhone App for only $2.99 from the Apple App Store.
More Ways to Participate
Want to share photos and talk with other members in our virtual camera club? Check out our Flickr Public Group. And from those images, I choose the TDS Member Photo of the Day.
Podcast Sponsors
lynda.com - Learn lighting, portraiture, Photoshop skills, and more from expert-taught videos at lynda.com/thedigitalstory.
Red River Paper -- Keep up with the world of inkjet printing, and win free paper, by liking Red River Paper on Facebook.
SizzlPix! - New 5k Ultra High Definition SizzlPix output for your photography. You've never seen your imagery look so good. SizzlPix.com.
Want to Comment on this Post?
You can share your thoughts at the TDS Facebook page, where I'll post this story for discussion.