Even though one of the strengths of Photos for OS X is iCloud integration, that only works with Apple devices. If you want to share images outside of the Mac/iOS sphere, Dropbox makes more sense.
Dropbox runs on practically any device and operating system. So even if you manage your images in Photos for OS X, you can push copies through Dropbox quite easily. Plus you have additional backup. And when it comes to pictures, redundancy is a good thing.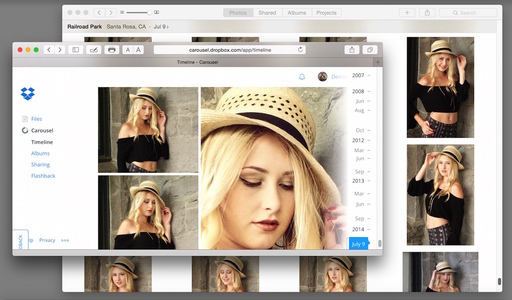 Carousel on a Mac on top, with Photos for OS X in the background. These two apps can work together to expand your Cloud capability beyond Apple's ecosystem. Photos by Derrick Story.
The key to this system is installing the Dropbox app on your Mac that gives you Finder integration. By doing so, you can simply export images in bulk from Photos for OS X to a Backup/Sharing folder in Dropbox. It's easy and fast. Here's a movie on how this works.
A nice bonus to bringing Dropbox/Carousel into the mix, is that you get the Flashback feature that shows you images that you took on this day back in time. I really like it.
More Dropbox Tips and Techniques
If you want to dig into Dropbox, take a look at my lynda.com training, Dropbox for Photographers. For those who want to learn more about Photos for OS X, I also have the title, Up and Running with Photos for OS X.
Previous articles on The Digital Story about Dropbox include:

Want to Comment on this Post?
You can share your thoughts at the TDS Facebook page, where I'll post this story for discussion.