This week on The Digital Story Photography Podcast: The Inside Scoop on the Olympus OM-D E-M10 Mark II, Eye-Fi for WiFi Cameras? Apple RAW Update - all of this and more on today's show with Derrick Story.
Weekly Update - "Modulo Camera Promises Unlimited Dynamic Range" The Photography Blog reports: "The new solution, developed by MIT researchers, gets around the limited well capacity of conventional sensors by resetting the sensor capacitors whenever the 'well' gets full, and uses an inverse modulo algorithm to calculate how much light the reset sensors took in. This algorithm recovers a much larger dynamic range. For example, if a certain camera sensor can record eight bits of information, then when those eight bits are filled, the capacitor will be reset to zero. The number of resets is recovered by the algorithm, which then calculates the relative brightness of each area of the photo. Interested readers are encouraged to visit the project's website and read the technical paper published by the researchers."
In other news, the Phoblographer posts: Reports of Sony's New APS-C E Mount Camera Boast 4K 30fps Stills - "The Sony A6000 is a great camera, but apparently there is something coming that won't succeed the camera but instead live above it as the company's flagship APS-C E mount camera. Mirrorless Rumors states even more beyond what they were telling us, and this time around these reports claim that the camera will have a 2.8 million dot EVF and many more video-centric features. Besides mic input support, the camera is said to have a 30 fps 4K photo mode similar to what Panasonic offers with their latest cameras. Plus, even more video-centric features will be added according to what the reports state."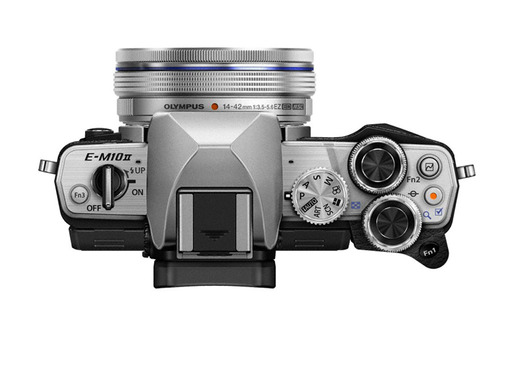 Story #1 - The Inside Scoop on the Olympus OM-D E-M10 Mark II
Olympus has upgraded both the interior and exterior of the very popular OM-D E-M10. The new model still retains the 16MP Four Thirds sensor and very compact body. Beyond that, however, the dials and body have been upgraded with premium components. And under the hood, we see better image stabilization and more versatile movie options. Here's an overview of the improvements.
How is it different than the original?
Upgraded image stabilization: 3-axis to 5-axis, 4 EV compared to 3.5 EV (the E-M5 Mark II has 5 EV steps).
Added electronic shutter to complement the mechanical shutter.
8.5 fps sequencial shooting compared to 8 fps.
Upgraded EVF to 2,360K dots with OLED compared to 1,440K dots in previous model.
Full HD upgrade to 60P/50P/30P/25P/24P from straight 30P.
Two new Art Filters bringing the total to 14.
New AF Targeting Pad.
Improved time lapse movie mode to output to 4K, compared to HD previously.
Added Keystone Compensation like on the E-M1 and E-M5 Mark II
Fairly Incredible Feat of Technology
Olympus was able to squeeze 5-axis image stabilization into a super compact body while still keeping the popup flash. I think the flash is important, not only for spontaneous fill light, but to serve as the wireless controller for off-camera lighting.
Additionally, the sequential frame rate is now a very respectable 8.5 fps. And Olympus has added the clever AF Targeting Pad that allows you to use the LCD to control AF functionality.
What the E-M10 Mark II Doesn't Have
The new model doesn't include weather sealing or 40MP High Rez Shot. Also, movie recording is staying at HD - no 4K video. But the price tag is also $649 compared to more than a thousand for its big brothers. In my estimation, that's a lot of camera for the money.
Story #2 - "Even if You Have WiFi, Eye-Fi Can be Useful"
Here's why I sometimes use Eye-Fi cards in my cameras that have built-in WiFi. You can read more about this by visiting c't Digital Photography Magazine.
Story #3 - Apple adds support for 6 new cameras in its latest Digital Camera RAW update (via Imaging-Resource.com)
Apple has released the latest version of Digital Camera RAW for OS X Yosemite, adding support for half a dozen cameras. The 6.06 update now supports RAW photos from the following cameras:
Canon PowerShot G3 X
Leica Q (Typ 116)
Panasonic LUMIX DMC-GX8
Sony Alpha A7R II
Sony Cyber-shot DSC-RX10 II
Sony Cyber-shot DSC-RX100 IV
The update can be downloaded by visiting the 'Update' tab in the Mac App Store.
Virtual Camera Club News
New Article from Red River Paper - Epson SureColor P800 Reviewed. The Epson SureColor P800 became available in June, 2015. It is the successor to the Epson Stylus Pro 3880. The P800 is a 17" wide professional and prosumer level photo and fine art inkjet printer featuring nine individual ink cartridges with the "UltraChrome HD" pigment ink system. Like the venerable UltraChrome K3 system, the new inkset uses five color ink cartridges along with three black ones.
Fall Color with Safari West: October 23-25, 2015 - Sonoma County has rolling hills covered in vineyards, beautiful trees, and gorgeous blue skies. What a prefect place to shoot Fall color and bolster your landscape library. But there's more. We include environmental portraiture with a professional model, and an exclusive African wildlife photo adventure at Safari West, led by a professional photographer, plus a few surprises. This is our longest running workshop of the season, and for good reason. Two full days plus pre-workshop reception, breakfast and lunch, excellent swag, professional model, private Safari West adventure with a pro photographer guide - all included for just $599.
Thanks to everyone who recently reviewed the TDS Podcast in iTunes!
BTW: If you're ordering through B&H or Amazon, please click on the respective ad tile under the Products header in the box half way down the 2nd column on thedigitalstory.com. That helps support the site.
Download the Show
In addition to subscribing in iTunes, you can also download the podcast file here (28 minutes - MP3 version). You can support this podcast by purchasing the TDS iPhone App for only $2.99 from the Apple App Store.
More Ways to Participate
Want to share photos and talk with other members in our virtual camera club? Check out our Flickr Public Group. And from those images, I choose the TDS Member Photo of the Day.
Podcast Sponsors
lynda.com - Learn lighting, portraiture, Photoshop skills, and more from expert-taught videos at lynda.com/thedigitalstory.
Red River Paper -- Keep up with the world of inkjet printing, and win free paper, by liking Red River Paper on Facebook.
SizzlPix! - New 5k Ultra High Definition SizzlPix output for your photography. You've never seen your imagery look so good. SizzlPix.com.
Want to Comment on this Post?
You can share your thoughts at the TDS Facebook page, where I'll post this story for discussion.