This week on The Digital Story Photography Podcast: Tips for Better High School Senior Portraits, Pentax Full Frame DSLR Coming this Spring, It's Time to Reinvent the Wedding, Free Photo Plus Expo Pass from Red River Paper- all of this and more on today's show with Derrick Story.
Weekly Update - Petapixel reports: New Pentax Full Frame DSLR Teaser Site Says Camera Coming in Spring 2016: "Ricoh has put up a new teaser page for its upcoming full frame Pentax DSLR. Back in February 2015, Ricoh announced that the camera would arrive by the end of the year. It looks like that date got pushed back a bit, as the website now says the debut will happen in Spring of 2016."
In other news, "Reports State Canon Working on a New 24-70mm f2.8 L IS Lens." The Phoblographer reports: "Canon's lineup of lenses currently includes both a 24-70mm f4 L IS and a 24-70mm f2.8 L USM-but no f2.8 version with IS built in. There were rumors being passed about this for a while now due to a patent, but Canon Rumors and Photo Rumors are saying that it's a very strong possibility that we may see one in the near future. With Tamron, Tokina and Nikon all having their own version, it just makes sense."
Story #1 - "5 Tips for High School Senior Portraits"
Personally, I really like shooting high school senior portraits. I learn stuff from these kids. The ideas they bring to the photo shoot help me become a better photographer. And in return, I can help capture this important moment in their life. Here are five tips to help you get the best shots possible.
Find the right location
Insist on wardrobe options
Get your lighting act together
Help them with posing
Capture a variety of poses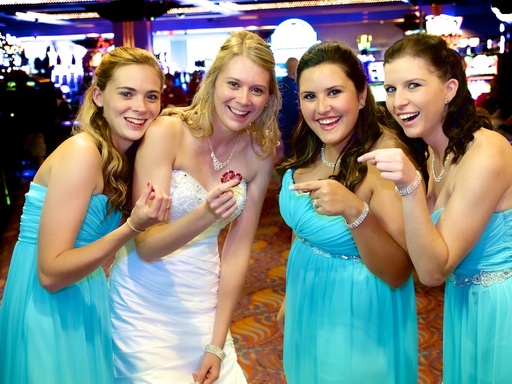 Story #2 - Reinvent the Wedding
You may have noticed a new tab on The Digital Story nav bar labeled Weddings. What's up with that? Well, I've stepped back and had a close look at wedding photography. And this new site, Reinvent the Wedding is a refreshed approach to capturing the pinnacle of social events. I discuss the details in today's second feature story.
Story #3 - From the Screening Room - Creating Black-and-White Landscape Photos with Lightroom with Taz Tally.
You can watch Taz in action by visiting the TDS Screening Room at lynda.com. While you're there, you can start your 7 day free trial to watch all of Taz's movies, plus every other title in the library.
Story #4 - Rocky Nook Evangelist Program
You can read all about the new program on the Evangelist landing page. Highlights include: early access to eBooks and 5 free print books per year. Plus other goodies such as T-Shirts and coupons. What you need to bring to the table is an online community to share your reviews with. If you have that, then take a look at this cool new program.
Virtual Camera Club News
A Word from SizzlPix
The 5k Ultra High Definition SizzlPix is the upgrade now in general release on all orders, so you can display your best photography in sizes from 18-inches to 6-feet with resolution and realism one expects only from the small screens on handheld phones and pads. SizzlPix clients say, contrary to expectation, resolution seems to increase as their photos grow larger!
SizzlPix invites photographers to order a print from the assembly-line plants, and a 5k Ultra High Definition SizzlPix from the same image. Compare them side by side. They've never ONCE had a client declare they liked the mass-produced print better. If yours is the first, you may return your SizzlPix for a full refund!
Note from Red River Paper - Red River Paper is proud to be exhibiting at the PDN PhotoPlus International Conference + Expo, October 22-24, at the Javits Center in New York City, and we hope to see you there. Look for them in booth 1158. And if you don't have a Expo pass yet, you can get one for free from RRP.
Fall Color with Safari West: October 23-25, 2015 - Sonoma County has rolling hills covered in vineyards, beautiful trees, and gorgeous blue skies. What a prefect place to shoot Fall color and bolster your landscape library. But there's more. We include environmental portraiture with a professional model, and an exclusive African wildlife photo adventure at Safari West, led by a professional photographer, plus a few surprises. This is our longest running workshop of the season, and for good reason. Two full days plus pre-workshop reception, breakfast and lunch, excellent swag, professional model, private Safari West adventure with a pro photographer guide - all included for just $599.
Thanks to everyone who recently reviewed the TDS Podcast in iTunes!
BTW: If you're ordering through B&H or Amazon, please click on the respective ad tile under the Products header in the box half way down the 2nd column on thedigitalstory.com. That helps support the site.
Download the Show
In addition to subscribing in iTunes, you can also download the podcast file here (37 minutes). You can support this podcast by purchasing the TDS iPhone App for only $2.99 from the Apple App Store.
More Ways to Participate
Want to share photos and talk with other members in our virtual camera club? Check out our Flickr Public Group. And from those images, I choose the TDS Member Photo of the Day.
Podcast Sponsors
lynda.com - Learn lighting, portraiture, Photoshop skills, and more from expert-taught videos at lynda.com/thedigitalstory.
Red River Paper -- Keep up with the world of inkjet printing, and win free paper, by liking Red River Paper on Facebook.
SizzlPix! - New 5k Ultra High Definition SizzlPix output for your photography. You've never seen your imagery look so good. SizzlPix.com.
Want to Comment on this Post?
You can share your thoughts at the TDS Facebook page, where I'll post this story for discussion.