The San Francisco Street Photography Workshop is SOLD OUT for 2016. Please see our other events on the TDS Workshops page.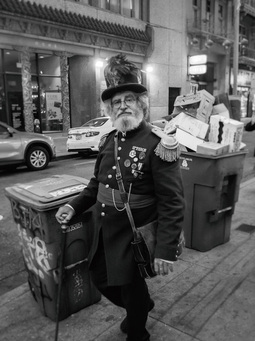 From the colorful shops in Chinatown to the haunting ruins at Fort Point, the SF Photography Workshop puts you on the ground in one of the most interesting urban centers in the U.S.
Our headquarters is based in the Union Square area of the city, at the historic Cartwright Hotel. All you have to do is walk out the front door to capture great shots. But we'll push even farther to locations that are sure to fill up your memory cards. It's Nimble Photographer meets Urban Explorer.
---
Photo from 2015 workshop by Mike Boening
---
We begin Friday morning, April 15, 2016 in our private conference room (yes, with coffee and tea service). Your leaders are Derrick Story and Olympus Visionary Mike Boening, and together they will provide a mix of classroom instruction and hands-on shooting in the streets of San Francisco. Here's the preliminary itinerary.
Itinerary for San Francisco Photo Workshop
Friday, April 15
8:15 am - Doors open in the conference room
8:30 am - Welcome and introductions
9:00 am - Street Shooting Etiquette - Derrick and Mike
9:30 am - Break with gear preparation
10:00 am - Depart for North Beach
10:30 am - North Beach Street Shooting
11:30 pm - Lunch on Your Own
12:30 pm - Depart for Palace of the Fine Arts
1:00 pm - Palace of the Fine Arts Shoot
2:00 pm - Depart for Fort Point
2:30 pm - Fort Point Shoot
4:00 pm - Depart for Chrissy Field
4:30 pm - Light meal at Chrissy Field (Part of Workshop)
5:30 pm - Class on Twilight Shooting - Mike Boening
6:15 pm - Twilight Shoot at Chrissy Field
7:30 pm - Day 1 Concludes

Sat., April 16

8:15 am - Doors open in the conference room
8:30 am - Preparations for Sausalito Shoot
9:00 am - Depart for Ferry Building
10:40 am - Ferry Ride to Sausalito
11:15 am - Orientation Meeting
11:30 am - Lunch on your own
12:30 pm - Sausalito Street Shooting
3:50 pm - Depart Sausalito
4:20 pm - Arrive SF Ferry Building
4:30 pm - Orientation Meeting
5:00 pm - Street Shooting on the Embarcadero
6:30 pm - Optional Twilight shoot

Sunday., April 17

9:15 am - Doors open in the conference room
9:30 am - The Nimble Photographer - Derrick Story
10:00 am - Chinatown Street Shoot
11:30 am - Group Lunch in Chinatown (Part of Workshop)
1:00 pm - Lab Session with Post Production Tips
3:00 pm - Class Presentation of Favorite Images
5:00 pm - Workshop Concludes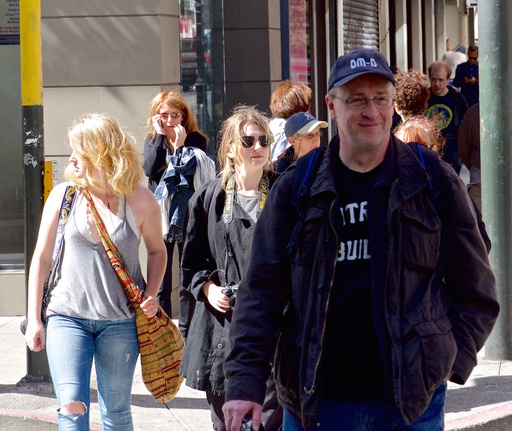 Can you spot the workshop photographers in this image from the 2015 event? There are four... Photo by Derrick Story.
Price for all three days is only $695. Plus you'll get special $169 room rates at the Cartwright Hotel, coordinated by us. To reserve your spot, simply pay the workshop tuition, and you're set. Group size is limited to 8 participants, and registrations are already underway (so don't wait too long). Once your spot is reserved, we'll contact you for the follow up details.
For questions and more information, just send email to:
I hope you can join us for this 3rd Annual Photo Workshop in San Francisco. It is an amazing good time.
The Nimbleosity Report
Do you want to keep up with the best content from The Digital Story and The Nimble Photographer? Sign up for The Nimbleosity Report, and receive highlights twice-a-month in a single page newsletter. Be a part of our community!
Want to Comment on this Post?
You can share your thoughts at the TDS Facebook page, where I'll post this story for discussion.