This is The Digital Story Podcast #508, Dec. 1, 2015. Today's theme is "Top 5 Nimble Cameras of 2015." I'm Derrick Story.
Opening Monologue
What a great year in photography it's been. I think aside from some terrific new cameras, which I'm going to talk about in the next segment, I've been most excited by LED lighting for my studio and on location.
I'm particularly impressed by the bicolor lights that allow me to precisely adjust color output from 3200K to 5600K. This solves a huge problem on location in particular, where office lighting often pollutes the background. Now I just match the ambient color temperature with my LEDs, then correct the entire image in post. It's wonderful!
Top 5 Nimble Cameras of 2015
Wow! Some great cameras were released this year. Here are my five favorite nimble models.
Olympus OM-D E-M5 Mark II - A superbly crafted, technology-packed Micro Four Thirds body that is a pleasure to shoot with. When I have to get the shot, and get it right, I reach for the E-M5 Mark II.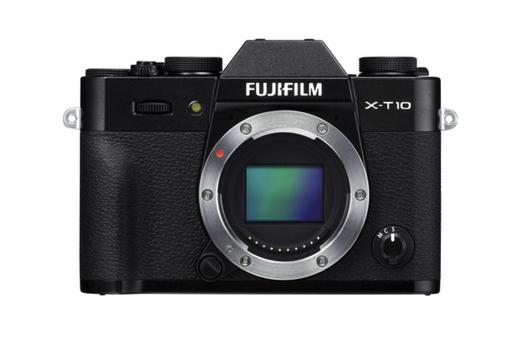 Fujifilm X-T10 - Revolving around the 16.3 MP APS-C-sized X-Trans CMOS II sensor and EXR Processor II, the X-T10 is capable of up to 8 fps continuous shooting and full HD 1080p/60 video recording, and features an expandable sensitivity range from ISO 100-51200. You get most of the benefits of its larger brother, the X-T1, but in a smaller package and at an affordable price.
Sony Cyber-shot DSC-RX100 IV - World's first1 20.1 MP 1" Exmor RS stacked back illuminated CMOS, High resolution 4K movie recording with direct pixel readout and no pixel binning, Super slow-motion movie3 HFR (High frame rate) up to 960 fps (40x), and if that wasn't enough, a bright F1.8- F2.8 ZEISS Vario-Sonar T* lens (24-70mm) and electronic viewfinder in this palm-sized beauty.
Canon PowerShot G5 X - Features a 1.0-inch, 20.2 Megapixel* High-Sensitivity CMOS sensor combined with Canon's powerful DIGIC 6 Image Processor creates the Canon HS SYSTEM for outstanding low-light performance up to ISO 12800. Plus EVF and fast f/1.8-2.8 zoom lens. It looks great, and Canon nailed it with this compact.
Panasonic LUMIX DMC-GX8 - Unique, in-body stabilization in combination with select optically stabilized lenses work together for class-leading Dual Image Stabilization results, 4K video recording, and a breakthrough 20MP Micro Four Thirds sensor.
In the News
Phase One Capture One Pro 9 brings updates to image editing algorithms - DPReview
"Phase One has launched Capture One Pro 9, the latest iteration of its tethering and image editing software. Capture One Pro 9 offers a 'completely updated contrast engine,' additional brushes, color editor masks and new keyword tools, among other features. Phase One also now offers three activations of the software for each standard license a photographer purchases. Also on the list of updates is the ability to apply curves locally, the addition of a Luma option to the curve tool palette and a battery status icon for the tool bar to view tethered camera battery life."
"Capture One Pro 9 is available now for Mac and Windows for $299 / €279 to new customers. Capture One Pro 7 and 8 customers can upgrade for $99 / €99. Anyone who purchased Capture One Pro 8 after October 30, 2015 will be exempt from the upgrade fee."
Clean Out the Cruft
I've been testing CleanMyMac 3, and I have to tell you, I love this app. Using the Smart Clean feature, I removed 20GBs of cruft from my MacBook Pro. Here's an overview of how it works:
One-click Smart cleanup to do all the cleaning automatically.
An Uninstaller to remove apps completely, leaving no parts behind
Large & Old Files finder to dig out heavy files you've forgotten about
A set of Maintenance tools to make your system work smooth again
Cleans Faces Cache (Photos for OS X)
Cleans local Photos app Cache (Photos for OS X)
Cleans iCloud local copies (with user's permission)
Replaces RAWs with JPEGs (with user's permission)
CleanMyMac also continues to support iPhoto library cleaning.
And for one week, TDS listeners can save 30% (URL is: http://macpaw.com/tds) and get this essential app for $27.97 (instead of the normal $39.95). Start out the New Year with a clean, lean Mac, and leave the cruft behind.
Street Photography Book Winners
Congratulations to Evelyn Rude and Dennis Moon for being randomly selected to receive Street Photography by Gordon Lewis. They were selected from the subscriber list of The Nimbleosity Report, a twice a month newsletter with inside scoops and discounted deals. (Next Edition comes out Wed., Dec. 2nd.)
This week's giveaway is two copies of How Do I Do That in Lightroom by Scott Kelby. Everyone on the subscriber list for The Nimbleosity Report is eligible. If you haven't signed up, the link is in the show notes. The next drawing is Monday, Dec. 7, 2015.
Member Quote of the Week
Intelligent comments culled from The Digital Story Facebook page.
In regard to last week's podcast question: Cameras at the Dinner Table - Terry Doner writes: "Cameras at the dinner table. OK. Run by your people first. I have decades of photos from the dinner table. It is a nice piece of family history." And Fred counters: "I'm against cameras at dinner. You'll be concentrating on getting a good shot instead of participating with your family. The other people will be self-conscious because they'll never know when you're going to take a picture. Wait until everyone is relaxing and the camera won't be intrusive (especially if you use a flash)."
Post your thoughts on our Facebook page. Believe me, I read them.
Palo Duro SoftGloss Rag Sheets Available
Red River Paper reports: Made from 100% cotton rag and featuring a lightly textured soft gloss surface, Palo Duro SoftGloss Rag surpasses the saturation, tonal range, and depth of classic darkroom printing. Reminder: This paper is very heavy and thick. Do not use if your printer only feeds paper from the front!
Found in the Bottom of the Bag
Wood Prints from inkdot.com - They are 5/8" thick and printed on Baltic Birch. They are archival, moisture, and UV resistant. They take two days for printing, then of course ship time. Sizes range from 6" x 6" to 24" x 36". And they make a crazy attractive gift.
Registration is open for The 2016 Street Photography Workshop in San Francisco. And I've posted the full preliminary itinerary on the Workshops page.
And if you plan on ordering through B&H Photo or Amazon, please stop by the TDS site first, click on their respective ad tile, then place your order. That extra step helps support the site.
See you next week!
More Ways to Participate
Want to share photos and talk with other members in our virtual camera club? Check out our Flickr Public Group. And from those images, I choose the TDS Member Photo of the Day.
Podcast Sponsors
lynda.com - Learn lighting, portraiture, Photoshop skills, and more from expert-taught videos at lynda.com/thedigitalstory.
Red River Paper -- Keep up with the world of inkjet printing, and win free paper, by liking Red River Paper on Facebook.
inkdot Innovative printing output and accessories for the creative photographer. Visit www.inkdot.com today.
MacPaw Creators of CleanMyMac 3 and other great software for Apple computers. Visit www.macpaw.com today.
The Nimbleosity Report
Do you want to keep up with the best content from The Digital Story and The Nimble Photographer? Sign up for The Nimbleosity Report, and receive highlights twice-a-month in a single page newsletter. Be a part of our community!
Want to Comment on this Post?
You can share your thoughts at the TDS Facebook page, where I'll post this story for discussion.