Every now and then I use a bag and think to myself, "These guys thought of everything." That's the case with the new Tenba Cooper Luxury Canvas 13 Slim Camera Bag. This messenger caught my eye when first announced, in large part because of its handsome design. Now I've had a chance to test it for a week.
I like it because it is indeed slim: only 5.5" deep, so it hangs at your side like a bag should. Even when I pack it full of gear, including two mirrorless cameras, lenses, MacBook Pro 13" laptop, iPad mini, and accessories, it holds its shape.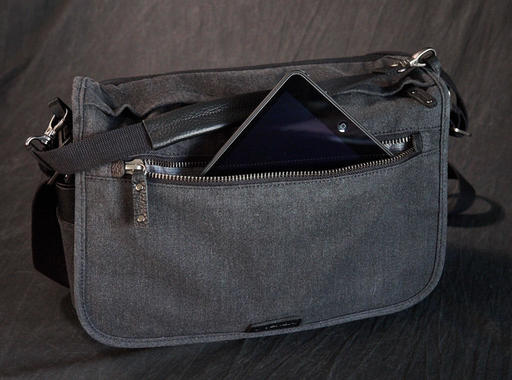 The peach-wax cotton canvas is soft to the touch and looks great. The hardware complements the fabric perfectly including real leather trim, brushed metal fasteners, and an attractive front zipper that also serves as an accent. Inside, the protective camera compartment is removable, allowing for quick relocation to a hotel safe and enabling the Cooper to be used as a regular messenger bag.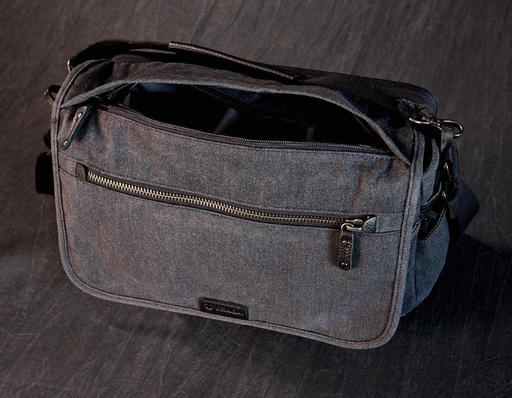 You don't have to raise the front flap to access your gear. A top zipper allows for quick retrieval of a camera or lens. In fact, everything is easy to find. I keep my iPad in the front compartment, laptop in the back, and camera get in the center area. I can quickly reach everything via a zipper.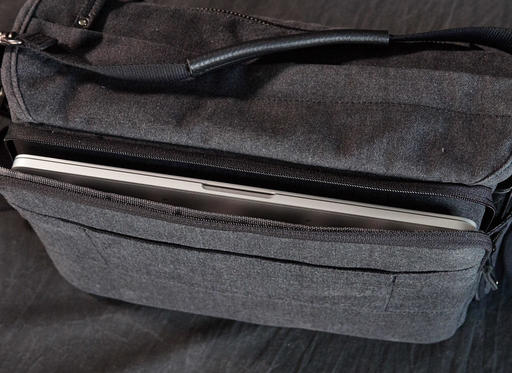 Speaking of which, the 13" laptop is stored in a separate back compartment. This makes it very easy to remove when going through airport security, yet it's against your back for protection. And if you're thinking that might not be comfortable in transit, that has not been the case for me. I keep the iPad mini in the front compartment for quick access.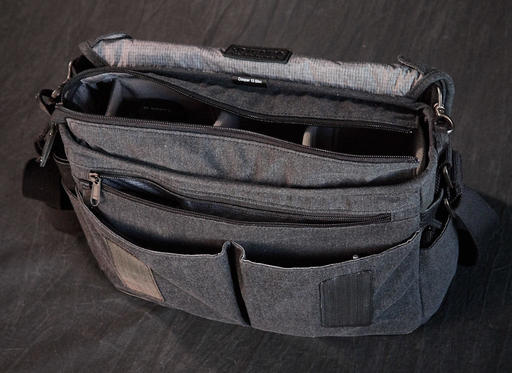 Inside the bag there are plenty of individual compartments for smaller items. If you pull down on the front flap before lifting it, the velcro-like fasteners are virtually silent. It's a nice touch. I'm stashing an OM-D E-M5 Mark II and a Panasonic GM5 in the main compartment. I've added a couple of lenses too. There's also plenty of room for my accessory pouch, glovers, pens, etc.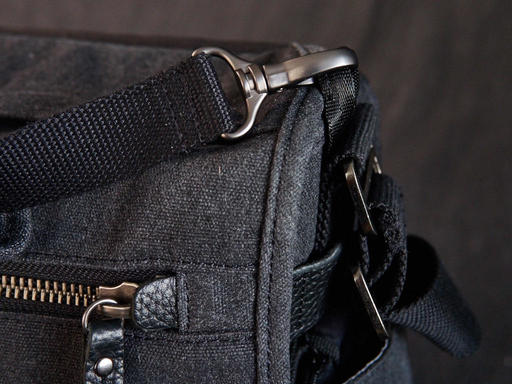 This Cooper Slim goes beyond being just practical, however. Every detail from zipper pull, to trolly sleeve, to leather bottom has been designed with great care. The side pockets have vertical zippers so you can place the item inside, then zip up to secure it. Really smart. And I've relocated the pad for the shoulder strap to the carry handle. This makes the grip even more comfortable, and if I need the pad on the shoulder strap, I can relocate again.
The bottom line is that I plan on using this bag for years to come. Since it's only 14.5" wide, I can take it anywhere. If the weather turns bad, it includes a form fitting rain cover, and when I sit it down on the table at a business meeting, it's handsomely appropriate for that occasion too.
The Tenba Cooper 13 Slim is now available for $229. And if you need a bigger version of this bag, Tenba makes that too.
---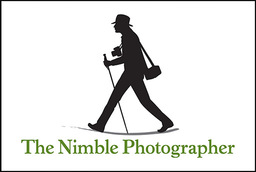 The Tenba Cooper 13 Slim has a high Nimbleosity Rating. What does that mean? You can learn about Nimbleosity and more by visiting TheNimblePhotographer.com.