Amid the great music and thriving night scene, quietly stands the Capital. And unlike other situations that I've seen in other cities, the street is lined with lights leading the eye to the handsome structure.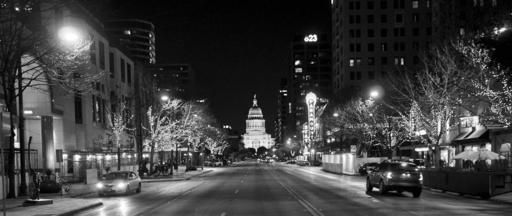 Austin, Texas at night. Photo by Derrick Story.
I waited for a green light, then slowly crossed the street in the crosswalk. I had 15 seconds left on the warning timer, so I stopped for a moment to capture this image with an Olympus OM-D E-M5 Mark II and Olympus 17mm f1.8. Settings were ISO 1600, f/2.0, 1/40th, -1/3 exposure compensation in program mode. I then processed the RAW file in Capture One Pro 9, using the B&W conversion tool with a yellow filter and fine grain film effect.
The Nimbleosity Report
Do you want to keep up with the best content from The Digital Story and The Nimble Photographer? Sign up for The Nimbleosity Report, and receive highlights twice-a-month in a single page newsletter. Be a part of our community!
Want to Comment on this Post?
You can share your thoughts at the TDS Facebook page, where I'll post this story for discussion.