Over the last year we've been talking about photo management software and how to cope with change. One question that comes up is "can I move my existing work to a new application?" It's a good question, and I have some helpful information for Lightroom and Aperture users contemplating a transition to Capture One Pro. And that will be the top story on today's show.
How to Move to Capture One
If you decide to try a different photo management app, or are forced to, how much of your previous library do you have to leave behind? To some degree, that depends on the amount of work that you want to invest in the project.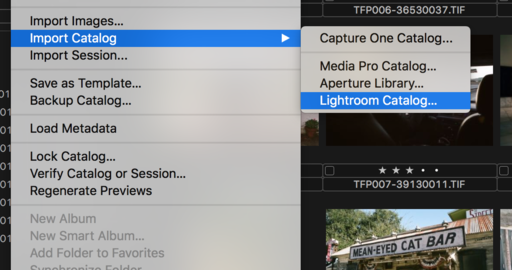 To help you make that decision, I'm going to outline the steps in today's podcast. At this point, you can just listen and think about what I'm saying. Because if you decide to make the move, I have a free eBook for you, titled: Moving to Capture One Pro. It has dedicated sections for both Lightroom and Aperture users, and it delves into the details of this type of transition.
So, for now, just sit back and listen. Then decide what's the best path for you to follow.
In the News
Instagram Finally Lets You Log Into Multiple Accounts - covered by PetaPixel.
If you have two or more Instagram accounts -- perhaps one for personal and one for business - Instagram has some great news for you this week: the company is finally rolling out multi-account support, which lets you log into multiple accounts in one app and quickly switch between them. This official announcement comes just weeks after some Android and iOS users began seeing the feature in their apps.
There are step-by-step instructions over on the Instagram Help page. And the Petapixel page features a short video that shows how easy it is to switch between accounts.
Oh Those Embarrassing Moments
I'm guessing that you may know that I have a journal on TheNimblePhotographer.com. So I thought I'd read you an entry today to give you a feel for what goes on over there. Today's story is an awkward incident from my trip to Austin, Texas.
Member Quotes of the Week
Intelligent comments culled from The Digital Story Facebook page.
In regard to last week's Facebook Post: "What is the Fascination with Retro>" we had some terrific comments, and I want to share one with you now.
Andrew wrote: "My recent interest in film cameras probably started more from a collector stand point. I started rebutting some of my camera history mostly for nostalgic reasons. Once you get these cameras back in your hands, they feel so good you just want to use them. I don' t think I would go back though - I like what digital photography gives me. It's just like I wouldn't relinquish word-processing for a typewriter - my brain is now rewired for digital. It doesn't mean I don't enjoy the occasional analogue "holiday". In fact, I am planning to make one day a month in 2016 as an analogue only day.
I don't think an interest in film is predicated on nostalgia. My son is of the "digital native" generation and he asked for a film camera for his birthday. He had been enjoying using OM lenses on his A7s and wanted the full OM experience.
Post your thoughts on our Facebook page. Believe me, I read them.
Updates and Such
The Digital Story Podcast is Coming to Google Play Music - Google has just published the last 15 TDS shows on its new Google Play Music Podcast service for Android devices. If you're a new listener turning in... welcome! More info at https://play.google.com/music/listen
Out of Chicago Update - The debut of The Nimble Photographer Workshop sold out on Friday, June 24. Because there is a wait list, we've added a second workshop on Thursday June 23. I hope you can join me in Chicago this coming June.
Gemini, the Duplicate Finder by MacPaw - Gemini's simple, fast, and safe to use, so make sure you give it a try. It's available at macpaw.com/gemini.
Are you using PROMO code: STORY to save 25 percent. You can apply that toward any wood print at www.inkdot.com.
And finally, be sure to visit our friends at Red River Paper for all of your inkjet supply needs. And a big thanks ImageFramer for also supporting this podcast.
See you next week!
More Ways to Participate
Want to share photos and talk with other members in our virtual camera club? Check out our Flickr Public Group. And from those images, I choose the TDS Member Photo of the Day.
Podcast Sponsors
Inkdot.com - Specializing in wood prints and other artistic treatments of your imagery - visit www.inkdot.com.
Red River Paper - Keep up with the world of inkjet printing, and win free paper, by liking Red River Paper on Facebook.
ImageFramer Take your photos to the next level with ImageFramer. Visit www.apparentsoft.com today.
MacPaw Creators of CleanMyMac 3 and other great software for Apple computers. Visit www.macpaw.com today.
The Nimbleosity Report
Do you want to keep up with the best content from The Digital Story and The Nimble Photographer? Sign up for The Nimbleosity Report, and receive highlights twice-a-month in a single page newsletter. Be a part of our community!
Want to Comment on this Post?
You can share your thoughts at the TDS Facebook page, where I'll post this story for discussion.