Of all the bags I've tested over the years, I've never had so many people approach me with complements as I have with the Lowepro StreetLine 140.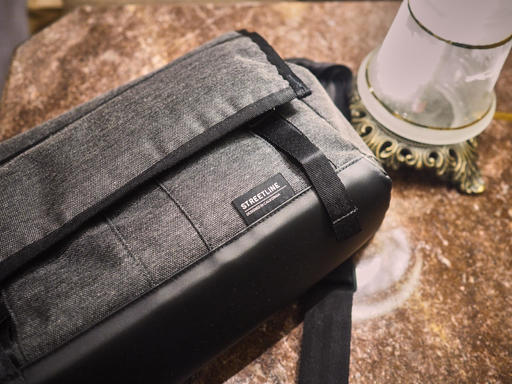 "That looks really nice. Is it a camera bag, or did you modify it yourself?"
"Where did you get that? Does it hold camera gear too?"
Yes, it is a camera bag. It doesn't look like one, does it? And don't get wrong, but it certainly doesn't look like a Lowepro bag. Shouldn't it be, well, more foamy or something?
It is a Lowepro bag, and after using it on assignment in Austin, it's now my favorite Lowepro. The Streetline 140 can be worn as a sling or a shoulder bag, holds two mirrorless cameras plus spare lens and personal items, plus accommodates a laptop and/or a tablet. The specs state an 11" laptop, but my MacBook Pro 13" (non-optical drive model) fits like a glove in the dedicated sleeve (that keeps your laptop separate from other items inside).
In Austin, I carried an Olympus OM-D E-M5 Mark II with 14-42mm EZ zoom and the new Olympus PEN-F with a 17mm f/1.8, plus the 75mm f/1.8, 9mm body cap fisheye, iPad mini, gloves, snacks, and shades. And I still had room for extra batteries, cards, and whatnot.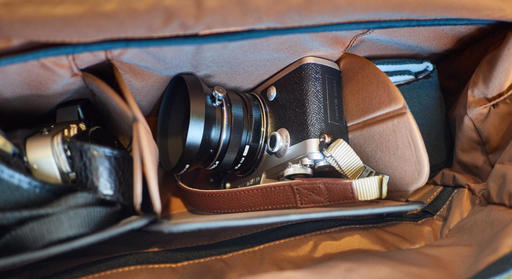 And here's the interesting part: the Streetline kept its slim profile and extreme comfort, even with all this gear inside. I used it mostly as a sling, keeping it secure against my back while walking, then swinging it around to work out of when shooting. It's very easy and fast to operate. There's a zippered pocket on the front flap (all external zippers are weatherproof) for quick items, another zippered storage area under the flap.
Then there's the main compartment. Here's where we get to a slick Lowepro innovation. The collapsable, interior FlexPockets are super space-efficient, yet protect the cameras. So I no longer have to endure wasted storage because of foam inserts. When I'm packing a camera, I pull a FlexPocket out, and when I'm just using the Streetline as a regular commuter bag, I collapse the FlexPocket to open up the entire interior of the carryall. It's clever, efficient, and works great.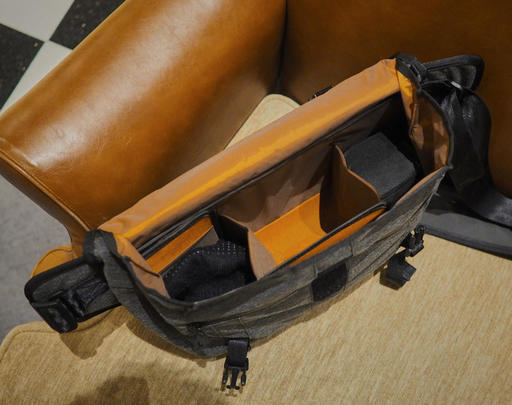 The strap and high-tech back panel are very comfortable, there's a handy top handle, and one of my personal favorites, a multi-function trolly sleeve. You can use it as a spare pocket when on foot, then separate the top and bottom velcro fasteners, and slide the bag over your rolling suitcase handle.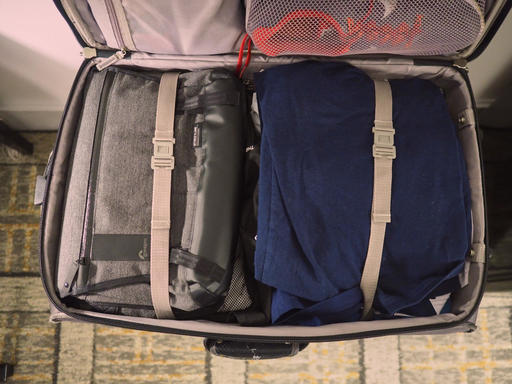 Or, if you want, you can stash the Streetline 140 in your suitcase and use a bigger carryon for the flight. Thanks to the FlexPockets, the sling compresses quite flat, making it easy to stow with shirts and pants. When you arrive at your destination, load up the Streetline with your gear, and go explore.
I wore the bag all day, in rain, wind, and even some sun. It maintained its handsome looks regardless of the weather conditions. My gear remained safe and dry. Most observers would never guess it's camera bag. But it is, and a darn good one.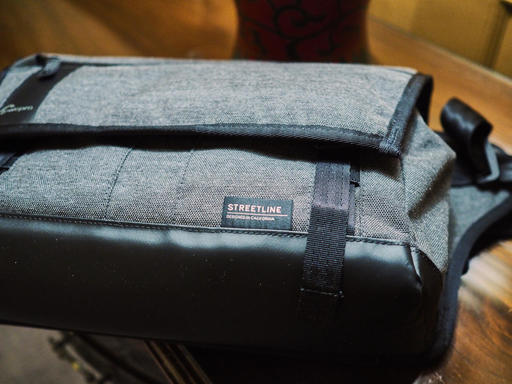 ---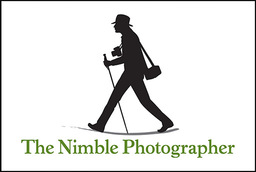 The Lowepro StreetLine 140 ($149) has a high Nimbleosity Rating. What does that mean? You can learn about Nimbleosity and more by visiting TheNimblePhotographer.com.